The smell of recently made coffee comes out of the little windows (ventanitas*) of Little Havana's Calle Ocho. It is a hot late afternoon. Jenny Lee Molina asks for an expresso, no sugar, like every day at around 3 p.m.
"This smell always reminds me of my family, my father, the Cuban tradition of drinking coffee with friends," says Lee Molina while she takes a picture of the cup of coffee with her red lipstick marked on it. Later she passes it through a filter to fix the colors and shares it on her social media with the hashtag #305Cafecito, precisely like that first time in 2012, when that "coincidence" would change her life.
At 36, Lee Molina is the successful president and founder of her own publicity agency in Miami, JLPR, located right in the heart of Calle Ocho. She has thousands of followers on Instagram, Twitter and Facebook. More than 50,000 if we add up only some of her accounts. Although she had already been taking off as a professional after graduating in communication from the Florida International University (FIU), 305 Cafecito, an initiative to turn 3:05 p.m. into the official coffee time in Miami, was actually "the coincidence" that put her in the public spotlight.
"The idea came up while I was having coffee with a friend and I looked at the clock at 3:05 p.m., which coincidentally is the telephone code for the Miami area. Then I twitted a photo with the hashtag #305Cafecito and published it as the 'official time' for the coffee break in Miami," says Lee Molina.
The Twit became viral. It caused such a stir that the major of the city made "Cafecito Time" official in Miami in 2013, as shown on a picture on her office wall.
"If in London they have the tea time, in Chile they have the Once, I said, why can't Miami have its cafecito time?" says Lee Molina already sitting in her office, precisely in front of a giant poster that says "Good Vibes."
The campaign survived as a platform on the social media to promote local restaurants, ventanitas and other projects that celebrate the Cuban-American culture around coffee. She has worked with collaborations from already established brands like Nespresso, Café La Llave and Starbucks, among others.
Of Cuban parents, Lee Molina considers herself "very Cuban to be American and very American to be Cuban," paraphrasing Lourdes Casal's verses where she said "too Havanan to be a New Yorker…."
"I'm from Miami, but I'm not so American, I prefer rice and beans than American mashed potatoes, for example. But the mixture is always there. I say 'tri ou faif cafecito,' in Spanglish, half in English and half in Spanish. What better way to describe my culture and my identity than that mixture?" she says.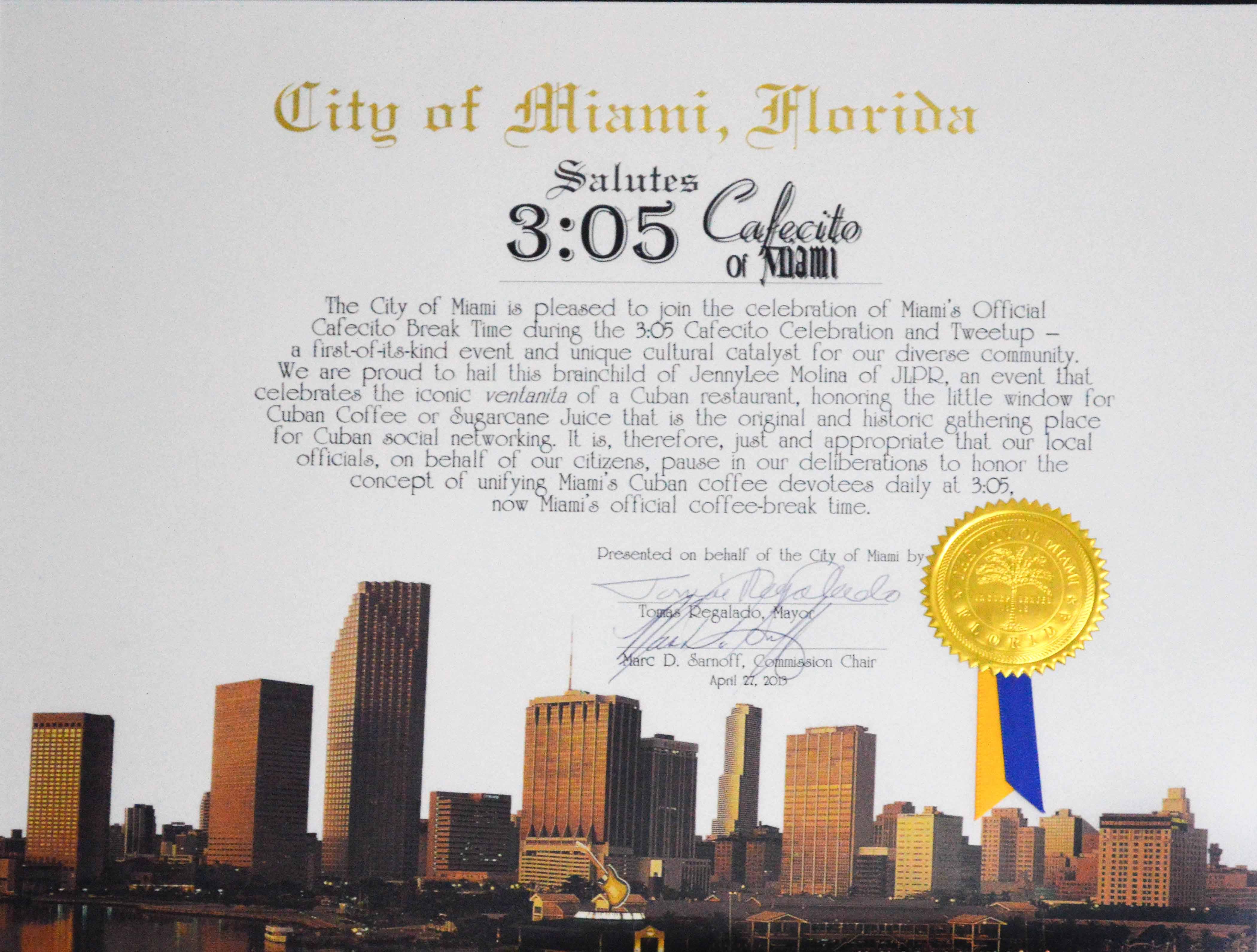 Do you like American coffee?
No, it's too weak. I like the Cuban style, real strong. The beans have to be well toasted and dark. My U.S. friends tell me that it tastes "burnt," but it has to be real strong.
Is there any difference between the coffee tradition in Miami and that of the island?
When I went to Havana in 2001 I was surprised that the coffee ritual was the same, it was very familiar. The steps are basic for the real Cuban expresso: you make it in an Italian coffee maker and you mix the first drops with the sugar to rapidly form the froth and then you add the rest. The consistency and the flavor are unique. Even though there are variations, like the coffee with a dash of milk, etc., or simply black and bitter, with no sugar, which is how I drink it.
Coffee connects. When friends arrive at a Cuban home, here or on the island, the first thing is to ask: "Do you want some water and a coffee?" That's a must. The coffee making as it is done in Cuba and Miami is designed to share with friends, in glasses or small cups. Notice that a coffee maker, depending on its size, can make three or six cups. That's what's beautiful about coffee and our culture, that in general we are happy and friendly people who like to share.
How did your love story with coffee begin?
Ever since I was a small girl. When I was barely 10 I already knew how to make coffee. My dad had three or four a day. My parents are very hardworking people and they drank a lot of coffee to stay active. My family and Cubans in general are very happy people, with very strong family values, hardworking people. And coffee is an important part to keep up all that energy. I drink rather a lot of coffee when I have long working hours, and to wake up.
Where has the 305 Cafecito phenomenon taken you?
There are people who don't know me, but they do know 305 Cafecito. I've been at a ventanita, for example, and I've heard people who I don't know say: "Hey, did you know that 3:05 is Miami's coffee-break time?" And I say nothing, but I think it's funny. That makes me happy. The idea of 305 Cafecito evolved from being a community around the Cuban coffee tradition to become a space to connect all those people and promote other projects, other brands, restaurants and maintain the custom alive.
But that's not my only project. There's another that's very personal for mi, Leha Art, in Hialeah, where I was born. There my job is connecting several community works with artists who paint street murals. We have even been able to change the laws or requirements to allow artists to rent spaces where before they couldn't, and it's a way of attracting talent and art to the zone.
Lee Molina has as presentation on her social media the motto "Family First" and on her website that of "Stay Positive," two sources that keep her optimistic in the face of the adversities as an employer.
"There are always difficult situations, as an entrepreneur I have had to face many of them, but one learns and improves. My eight-year-old son is a very great motivation for me. Family is what's most important," she says.
Although she confesses that she doesn't know if her son will inherit the taste for Cuban-style coffee, her hope is that he doesn't lose the Spanish language, in addition to being able to raise him with the Cuban customs and the traditions of an island that is not alien to her scent for business.
"I would love to be able to collaborate with Cuba, organize events and make publicity. Even though it seems far away, it would be a dream for me."
*Miami is full of ventanitas, places where the Cuban type of coffee is sold.