Cuba's harlistas keep their antique Harley-Davidsons running with resourcefulness, ingenuity, and indefatigable good humor.
There's a sepia panoramic photograph, circa 1948, that adorns the walls of several Havana restaurants, showing members of the Club de Motociclistas de Cuba by the beach in Surgidero de Batabanó, with their bikes neatly lined up in a row. Most are Harley-Davidsons purchased from the Casa Bretos dealership, Cuba's sole pre-revolutionary Harley-Davidson franchise.
In those halcyon days, many Cubans also rode Indians and British Triumphs, but the Harley-Davidson was the defining icon of the isle's moto culture. Thousands thundered down the highways of Cuba. Harleys were standard issue for Cuba's military and police, and for workers of the (U.S.-owned) electrical and telephone companies. "Some vendors also sold ice cream from Harley Servi-Car three-wheelers," recalls Raúl Corrales, founder of the Classic Motorcycle Club of Cuba."I think perhaps there were more than five thousand Harleys," suggests Luis Enrique González, an electrical engineer by training and an über moto mechanic.
Then Castro and friends made a revolution and spun off into Soviet orbit, invoking the U.S. trade embargo (Cubans call it el bloqueo, the blockade), that cast a time-warp spell over Cuba in terms of classic Americana turning the island's vibrant Harley culture on its head.
No more Harleys—nor American cars—were imported. The Bretos dealership was forced to close.
"We received a shipment of one hundred new Harleys in 1960, but after that not even spare parts," recalls 79-year-old Antonio 'Tony' Miniet, who joined the police force in January 1959, immediately after the revolution. "We had to find ways to service the bikes. Like all the Cuban harlistas, we learned to be creative," he adds, speaking of Cuba's proudly fanatical owners of antique Harleys.
A former roulette dealer at mobster Meyer Lansky's Riviera Hotel, Tony founded the police daredevil acrobatic team that rode Harleys until the difficulty of maintenance, plus growing anti-yanqui sentiment, forced their demise. "The anti-American feeling was especially true of the Harleys—they were the motorcycle used by Batista's brutal police," recalls Raúl Corrales. In 1968, the police Harleys were replaced with Moto-Guzzis. Many were sold to individual policemen.
"Today there are fewer than two hundred Harleys left in Cuba," says Luis Enrique. "The oldest is from 1932," he adds, straddling a blood-red 1946 Knucklehead in his basement workshop adjoining his Vedado home. The fender sports a sticker of Che Guevara. I count eight other Harley-Davidsons and a disassembled 1947 Indian Chief in his collection of thirteen pre-revolutionary bikes.
Luis looks like a textbook harlista in his blood-red bandanna, black T-shirt emblazoned with a Harley-Davidson logo, and chain-festooned jeans.
He stomps down on the kickstart and the retro iron explodes into life… VROOM!
His antique Harley would be a museum piece elsewhere in the world. In Cuba, where fewer than ten percent of families own a car, it's a daily ride. Luis has ridden several of his 70- and 80-year-old Harley-Davidsons all over Cuba. Yet keeping them running is a challenge given the U.S. embargo and perpetual shortage. Luis and fellow harlistas have to scavenge, swap, or monkey-wrench parts.
"El cubano inventa" he says, laughing as he explains how Cuba's harlistas go to absurd lengths to keep their aged hogs running. "What we can't fix or cannibalize from cars we make ourselves. We tailor virtually any part you can think of, right here," he says, showing me his homemade lathe.
"¡Hecho en Cuba, chico!" he says as he displays handlebars and exhausts made from domestic piping. A drive chain once powered a conveyor-belt in Cuba's Coca-Cola bottling plant. Russian GAZ jeep pistons and valves from a Russian Kamas truck substitute for Harley originals. "The guy I bought the Knucklehead from even made the seat cover from the skin of a pit bull," Luis adds, chuckling. And, he explains, in the grim years known as the 'Special Period' after the collapse of the Soviet Union, lack of tires forced Luis to replace one of his Harley's spoked 16-inch wheels with a solid 15-inch VW Beetle wheel
It seems ironic that the Harley-Davidson—the most iconic of American symbols—has such die-hard fanatics in communist Cuba. In fact, harlistas are just as passionate as their American counterparts, but their social bond is many orders of magnitude stronger. This enigmatic and prismatic subculture rises to the level of a religion without a name.
"I don't have a car. I use my bike for everything! To go to the doctor, to the store, or a party. Whatever!" says 39-year-old bearded musician Luis Gustavo Mas, proudly, of his matte-black '46 1200cc Flathead. "She's part of the family, like the refrigerator… or a live-in mistress."
Family! Family is everything in Cuba. Fired in the crucible of the 'Special Period' of the early '90s, the tight-knit harlista family is so well-recognized that the Harley-Davidson remains the most revered motorcycle brand on the island. This despite the presence of tens of thousands of sober Czech-made Jawas, East German MZs, Russian-made 350cc Jupiters and 650cc Urals with sidecars, and ubiquitous Suzuki 250s imported by the Cuban state since the 1990s for use by security personnel and officials.
During the 'Special Period,' many Harleys broke down and couldn't be fixed. Few Cubans wanted them. They preferred easier-to-fix, light-on-gasoline Soviet Bloc motos. But some die-hard harlistas stuck by their timeworn treasures. Geniuses of invention… Mechanical wizards… They figured out a way to save their machines from extinction. The lucha (struggle) forged a battle-hardened bond and infused a sense of Cubanía that drew the community closer together and breathed fire into the harlista spirit.
Alas, in the early 1990s foreigners began buying up Harleys and other rare bikes for a few hundred pesos (less than $100, back then) from Cubans clamorous for cash. "An Argentinian shipped out most of the British bikes and some Indians," says Luis Enrique. "Many were shipped out by the husband of a German diplomat. He used his wife's diplomatic immunity to send bikes out of the country," adds 59-year-old Rafael Díaz Díaz, proud owner of silver-and-candy-apple-red 1946 Indian Scout. "We didn't know the value of our bikes. We were desperate back then," he says, grimacing at memories of the bleak 'Special Period.'
In 1996, Cuba's vintage bikes were classified as National Treasures. Like their classic car counterparts, they can no longer legally be shipped abroad. Still, Harleys occasionally get bought and spirited out of the country as 'recycled steel.'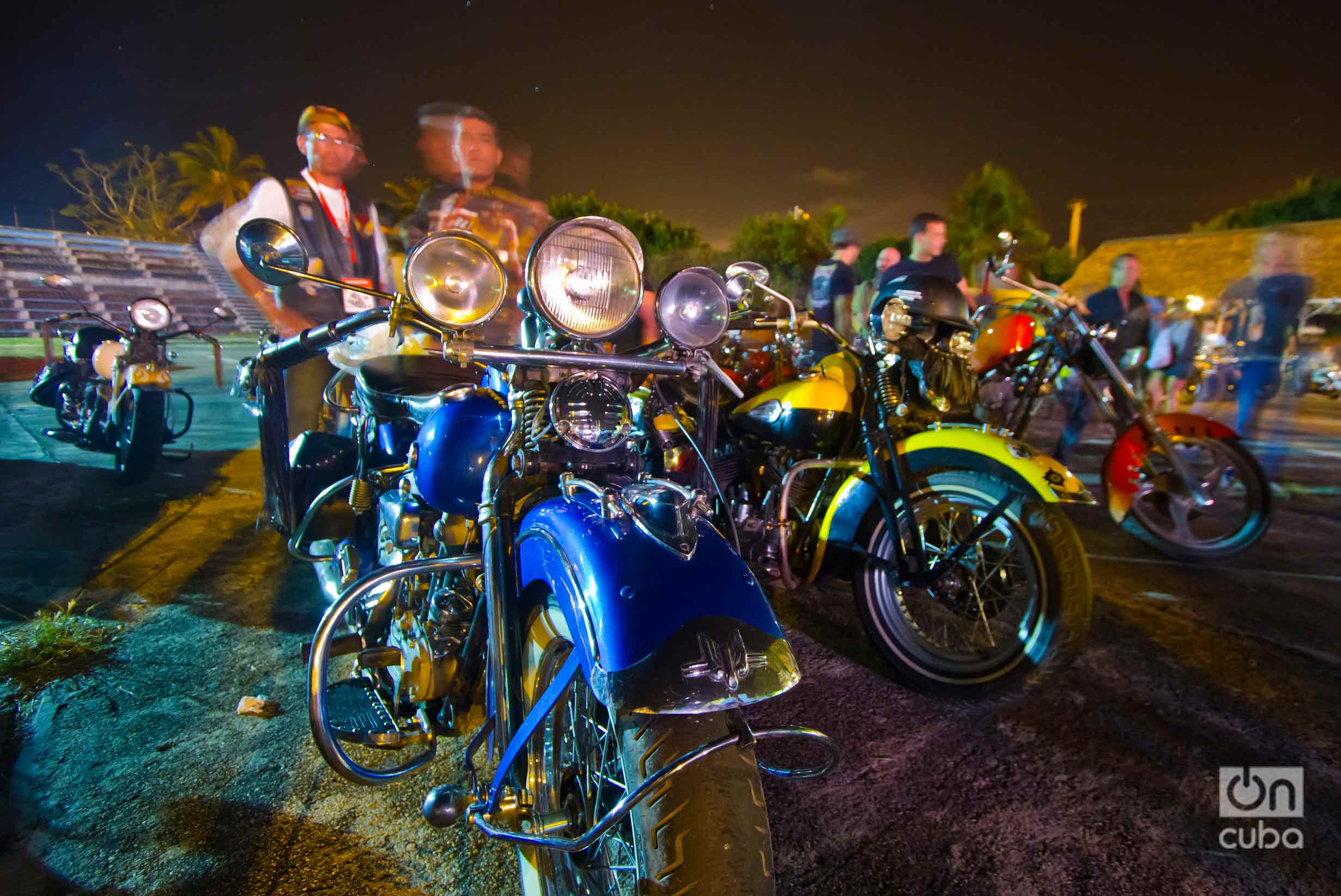 The harlistas' world is newly challenged as Cuba increasingly becomes a 'monied' society.
Since President Obama's easing of relations, Harley-Davidson parts can be ordered online and brought in by visiting friends. And the growth in tourism has meant more foreign residents in Cuba, and more Cubans with disposable income (much of it money sent by their families in Miami). Together these nouveaux riches have been buying up Cuba's Harleys, which have soared in price and popularity. Today, a six-decade-old Harley-Davidson can command $20,000 or more—an astronomical sum in a country where the average state salary is about $27 a month.
"More harlistas have a capitalist mentality. Money has started getting in the way of brotherhood and friendship," bemoans Jorge Santos Prats, who in the 1980s paid 7,000 pesos (two years' salary, sufficient to build a house in Cuba) for a 1947 Flathead.
Recently, while I was strolling along a cobbled street in colonial-era Habana Vieja, Ernesto 'Che' Guevara's son bounded out of a bar and embraced me. Like his dad, Ernesto "Jr." is a motorcycle enthusiast. When I first met him six years ago, he was riding a jade-colored 1948 Flathead. Today, after we dine together at a Harley-themed restaurant—Chacón 162—Ernesto rides off on a 2015 Harley-Davidson Electra Glide Ultra Classic.
Five years have passed since President Obama announced a rapprochement with Cuba; eight years since Raúl Castro eased up on cuentapropistas (private entrepreneurs); and 24 years since I rode my BMW R100GS around an impoverished Cuba. Suddenly I need a neck restraint to stop doing double-takes as cuentapropistas burst out of their straight-jackets. Every third building in this overcrowded, once-sclerotic quarter of Habana Vieja is in the throes of a remake as a boutique B&B, hip restaurant, or—what's this?—a gourmet heladería selling homemade gelato ice creams. But nothing epitomizes the 'New Cuba' emerging before my eyes so much as Ernesto roaring off on his sleek new Harley tourer.