Carlos Lazo, a Cuban teacher from Seattle, has gone viral in some social media after having published a video in which he sings with his young U.S. students the song "Cuba Isla Bella," by the Cuban hip hop trio Orishas. His gesture and that of his students moved thousands of Cubans and transmitted the power of the friendship between the two countries which Lazo recognizes today as his mother (Cuba) and his father (United States). The road to reach those feelings has been full of hurdles….
Alone in Havana
"At 15 I was alone and I learned to cook. When I was afraid of the dark and the cockroaches, I would walk to the Malecón and I would sit there facing the sea until I felt sleepy."
In 1980 his older brother was able to go into exile in Peru with the events of the embassy, and his mother traveled to Miami a few months later with the idea of staying there and recovering her sons, even though legally that could be very difficult.
Everything in him, all his energy, was ready to "leave" Cuba. His father, a revolutionary, continued being the amorous father from his childhood. He would go visit Carlos every week. But their lives went their separate ways. Politics became an impossible subject, although everything else, beautiful, he continued growing among them. And it was like that until the last day.
"I was in a world of my own." And the disappointment grew when he found out they wouldn't let him study Medicine because "he didn't have the political-moral conditions." A mother in the United States and a brother exiled in Peru were sufficient motives for the filters of the time.
"For me Cuba was the worst country in the world."
After that he didn't even try to enroll in university. He was a stevedore in the docks, he worked in La Epoca shop's warehouse, he worked in a vegetable stand downstairs from his home, as a butcher in Lawton. He won over friends everywhere thanks to his ability to get along well with people.
"I had 'counterrevolutionary' clients who said I reminded them of the salespeople from before 1959 because of my friendly manner. And the 'revolutionary' clients said that I was like the New Man."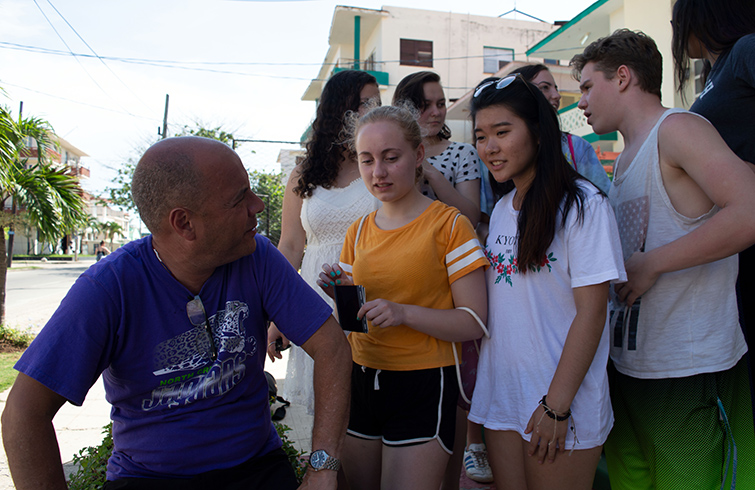 Illegal exit
One night in 1988 he left the country by sea through Baracoa beach on a rustic raft with a friend. He was 32 years old and his vital compass was always directed to the North. They spent two days drifting until they were captured by the Cuban coast guards close to Jaimanitas, the small coastal town where Carlos Lazo had been born in 1965, in a socialist country.
This time his journey ended in the Quivicán jail. He was sentenced to one year in prison for the crime of "illegal exit from the national territory and illicit appropriation" (because he had taken on his trip some flippers he had rented at a camping site).
"Prison was a period of growth," he says. He read "everything I could get my hands on": Víctor Hugo, Dostoyevsky, Verne, Hemingway…. "One day an officer came to ask me to turn a room full of books into a library." He organized and disorganized them. "I became a variant of Penelope to gain time in my favor."
His greatest aim, and secret, continued being to get to the United States. In 1991 he again took the risk, without being able to say goodbye to anyone, not even his two small children who remained in Cuba.
Second time…
It must have been 5 in the evening when they started seeing a red light rather far away. It was the third day they had been adrift.
They lit a fire with everything they still had at hand since the 1951 American Champion engine stopped working seven hours after leaving Havana on route to Florida. But the red light became increasingly smaller.
On the boat one could hear the murmur of a prayer among six persons, shipwrecked for some minutes in their own unmentionable terror. It was the mother of the three-year-old boy that could heard. "We aren't going to be able," she cried. Then Carlos Lazo took out one of the two books he was carrying with him.
"Open it," he told her. "Wherever it falls you will find an answer." The woman opened the book at Psalm 23: "The Lord is my shepherd, I lack nothing." And she continued whimpering the next five minutes while she read out loud the rest: "Even though I walk through the darkest valley, I will fear no evil, for you are with me."
Lazo could have also shared with her his other small book wrapped in nylon. But he thought it was not the right time for the verses of a poet, a Rafael Alcides thankful as a dog: "today I welcome all I have and all I am."
It was then someone made the announcement – how to remember now, 27 years later, who was the Rodrigo de Triana of that expedition.
A flickering green light started approaching until it was possible to see it, completely, on the bow of a yacht with a Florida license: "Wait there, we already notified the Coast Guard!" The red light was still lit on the stern. They were very lucky and received the grace of restarting their life in the United States.
Miami-Havana: round trip
"When I got to Miami everything looked wonderful to me."
He worked in a cafeteria, delivering pizzas, he learned how to drive large trucks and was a technician in mental health in a home for the elderly. "I used to take my guitar and I had a nice time with them."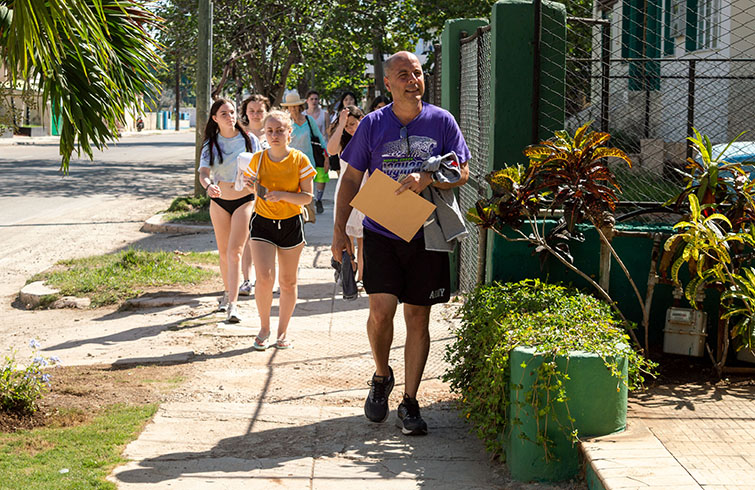 On July 12, 1994 he returned to Cuba for the first time, when his father became sick and thanks to a special permit he was able to get from the Red Cross.
The country was choking from some of the extremisms that had been committed, battered by the deepest economic crisis and at the door of the great "rafters' crisis." The Special Period and the Cuban Adjustment Act drove more than 30,000 to the Straits of Florida.
Carlos Lazo recognized himself in them. He was also a rafter, but he was back. He understood that he would no longer renounce Cuba again.
Seattle-Iraq-Washington-Havana
When he decided to move to Seattle he felt he was really in the United States. Imbued with gratitude to his new country he enrolled in the National Guard with the idea of being useful during fires, earthquakes…. But in 2004 Iraq was his unsuspected destination.
The Cuban, who until then had only finished senior high, was trained as a nurse and became Sergeant Lazo. "I don't wish war on anyone." For him it lasted until 2005.
During a short vacation, while he was posted in Iraq, he decided to return to Cuba to visit his children. At Miami airport they didn't let him travel. The then President George W. Bush had decided that family visits to Cuba could only be made every three years. And Carlos Lazo had already used up his "quota."
A road to liberation started for him: he lobbied before congresspersons in Washington and in Miami, with the dignity of a Cuban father and at the same time of a U.S. soldier. He made a statement in the Senate and for weeks he was referenced in several media in the United States. From Iraq he had recorded a video: "if I die in this war and can't see my children again, it won't be because Cuba prevents it but rather Bush."
At that moment Carlos Lazo was the link in a chain of progress that explicitly or discretely was promoting the still unfinished process of political normalization between both countries and peoples.
At 40 he at last decided "to go to school" and became a teacher. Since then, studying and teaching has been one of his greatest motivations. About to conclude a doctorate, having finished two BAs, two masters, he feels an intense motivation –from Christianity – to contribute to heal the separations between families and people. "Love never fails. But where there are prophecies, it will never cease." (Corinthians 13:8)
Note: Carlos Lazo teaches Spanish in a senior high in Seattle, in the state of Washington. His 10th grade students in Bothell's North Creek High School are learning a language that is not theirs, a grammar with strange rules, a phonetics that at times it is too hard for them…with the so unrepeatable "r."
But for those kids, aged between 15 and 17, Spanish is above all a motivation to have fun, learn the love of the homeland, train in respect for different cultures and, under the influence of their teacher, accumulate admiration for Cuba.
In April this year Lazo took a group of 37 students to the island, and last July another with students, parents and teachers. His next dream is to be able to go with a bigger group and sing "Cuba Isla Bella" together with young Cubans.