Fulfilling José Martí's dream
Adianez Morel is only nine years old. Diminutive, even for her age, she seems undersized for the violin in her hands. Her teacher, Ekaterine Triana James, steps forward, adjusts the placement of her fingers on the instrument's neck, then steps back.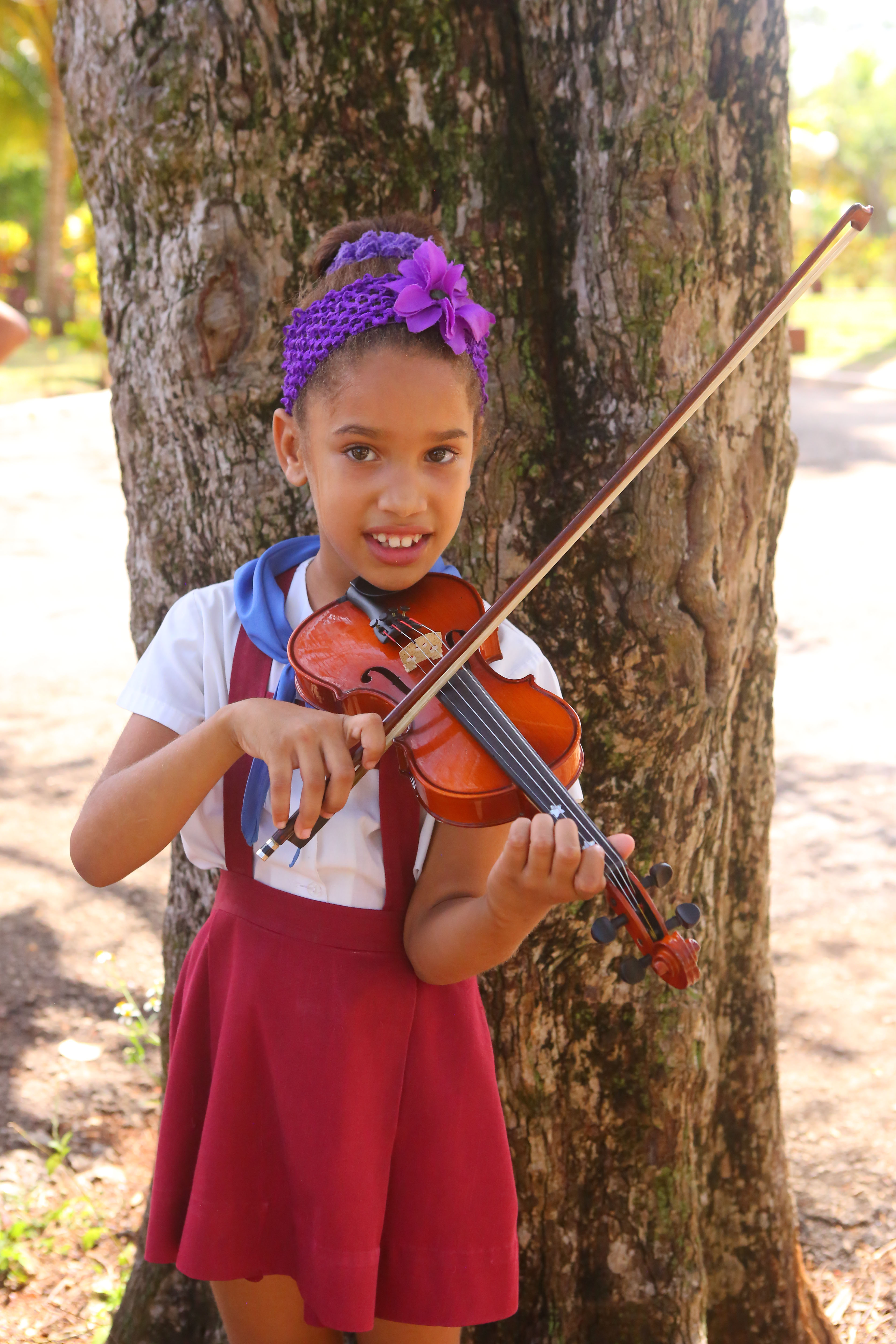 "¡Ya, dale!" Begin!
Adianez hesitates. But Ekaterine's words of encouragement help calm her. Adianez nails Concerto number 1 for violin by Jean-Baptiste Accolay—no easy piece for a child in only her second year of music study.
I'm at the Escuela Provincial de Arte Eduardo Abela, in San Antonio de los Baños, with a group of American motorcyclists on a "people-to-people" tour. Several are hard-drinking Republicans with a "damn the Revolution" mentality. As group leader I've brought them here to learn about (and hopefully appreciate) Cuba's lionized education system.
Music is in Cubans' DNA. So, it's no surprise that the country treats music education the way America treats little league baseball. But the Escuelas Vocionales de Arte system speaks to a vision and commitment far deeper.
At his 'History Will Absolve Me' trial following the failed Moncada Barracks attack in 1953, Fidel named José Martí—leader of Cuba's 19th-century independence movement—as the attack's "intellectual author." Martí's vision of a fully literate, non-discriminatory post-independence society informed Fidel's revolución, launched at Moncada. The 1961 Literacy Campaign was the first stage in a comprehensive education reform that turned a nation with more than 20 percent illiteracy in 1958 (at least half a million children had no schooling whatsoever) into the world's first fully literate country, while also creating a state-funded schooling system that guaranteed full and equal opportunity for every Cuban, regardless of color or class. The Escuelas Vocacionales de Arte (EVA) are the zenith and epitome of this revolutionary achievement.
Fidel was the only Cuban male of his generation never to have been seen to sing or dance. Nonetheless, he established that music be taught in regular schools on a par with math, history, and other key subjects. In parallel, the EVA system was created with a single specialized school—16 in total—in every province (plus four in Havana) charged with identifying kids with special talent and training them for a life as professional artists, musicians, and dancers.
By 1968 the Castro government had also nationalized every business. Musicians became state workers. Hence, the number of students admitted to EVAs varies annually according to each province's projected needs: X number of violinists… X saxophonists… X choral singers…. And so on. Pretty much every requirement of a full orchestra is catered for.
Darianna Videaux Capital, now 27, was assigned the double bass due to her height. "I was eight years old. I didn't know what a double bass was," she recalls, laughing. "I hated it! It was years before I began to appreciate it."
"We try to accommodate each child's desired instrument," claims Elizabeth Labrada Mariño, director of Cienfuegos' Benny Moré arts school. "It's not always possible. A small child can't play the double bass."
A visit to the Benny Moré school is a highlight of National Geographic Expeditions' "Cuba: Discover its People & Culture" programs. My group members pepper Elizabeth with questions. How do you select the kids? How do they choose their instruments?
Every year a panel of teachers visits all schools in their respective province to assess every child between eight and ten years old who wishes to audition, we're told. "It's not necessary that they know how to play an instrument," says Elizabeth. "We look for rhythmic aptitude, physical attributes, and the right psychological metrics. Then we audition the best four hundred candidates." Only forty are admitted. Nationwide, an average of 9,000 students attend EVAs.
The goal? To turn each child's natural ability into technical virtuosity.
It demands a rigorous routine that amounts to a double work-load. Students receive music tuition in the morning and regular academic classes in the afternoon, or vice versa… plus evening practice and vacation projects on top of their regular homework. (The academic portion doesn't comprise a full curriculum, however. Ekaterine had to study remedial classes to earn sufficient credits for admittance to the University of Havana when she chose to earn a degree in child psychology.)
Every student learns the piano, in addition to his or her primary instrument. The focus is on classical music, including such foundations as solfège and counterpoint, though students also study Cuban vernacular music and may eventually end up playing in jazz ensembles or salsa bands. The curriculum is centered around group lessons for music theory and history. But when it comes to their chosen instrument, they're the beneficiaries of one-on-one private tuition.
Dianna Solís Sánchez steps forward and bows. She's wearing pink sneakers; her hair a crazy mop. She's fifteen and this is her final year of guitar study at the Benny Moré school, she explains with a pixieish smile. Then she adjusts her mustard-colored mini-skirt uniform as she sits. Her flawless rendition of Cuban composer Leo Brouwer's exquisite Etude 17 earns a standing ovation. Her professor, Rafael Gallardo, beams. Tears trickle down one of my tour member's cheeks.
Dianna is from Cruces, far enough away that she boards at the Cienfuegos school Monday to Friday. Her parents can visit mid-week.
Next year, she'll move to the next level—the Conservatorio Olga Alonso, in Santa Clara. At fifteen most students move on to EVA conservatories in Havana, Santa Clara, Camagüey, or Santiago de Cuba. From here they graduate as professional musicians, while the elite ascend to Havana's Instituto Superior de Arte—Cuba's equivalent of the Julliard or London's Royal Academy of Music.
Most staff are EVA graduates. Few are full-time teachers; many double as professional musicians. Rafael heads the Orquesta de Guitarras Ensemble, which he founded. Ekaterine—a graduate of Havana's Conservatorio Amadeo Roldán—has played with a gazette from the Orquesta Sinfónica Nacional to Eliada Ochoa (of Buena Vista Social Club fame) and pop-trova mega-stars Buena Fé. Most EVA graduates return as teachers, too, assigned for three years on minimum wage as "pay back" for their education.
Though inordinately rich in culture, cash-strapped Cuba is materially poor, due to its sclerotic state-run economy and the crippling U.S. embargo. The window shutters at Cienfuegos' art school are falling apart. The seats decrepit. Roofs leak, the plaster and paint falling away like scrofulous skin. And although every student is given his or her own instrument for exclusive use throughout their school tenure, Adianez's violin is no Stradivarius.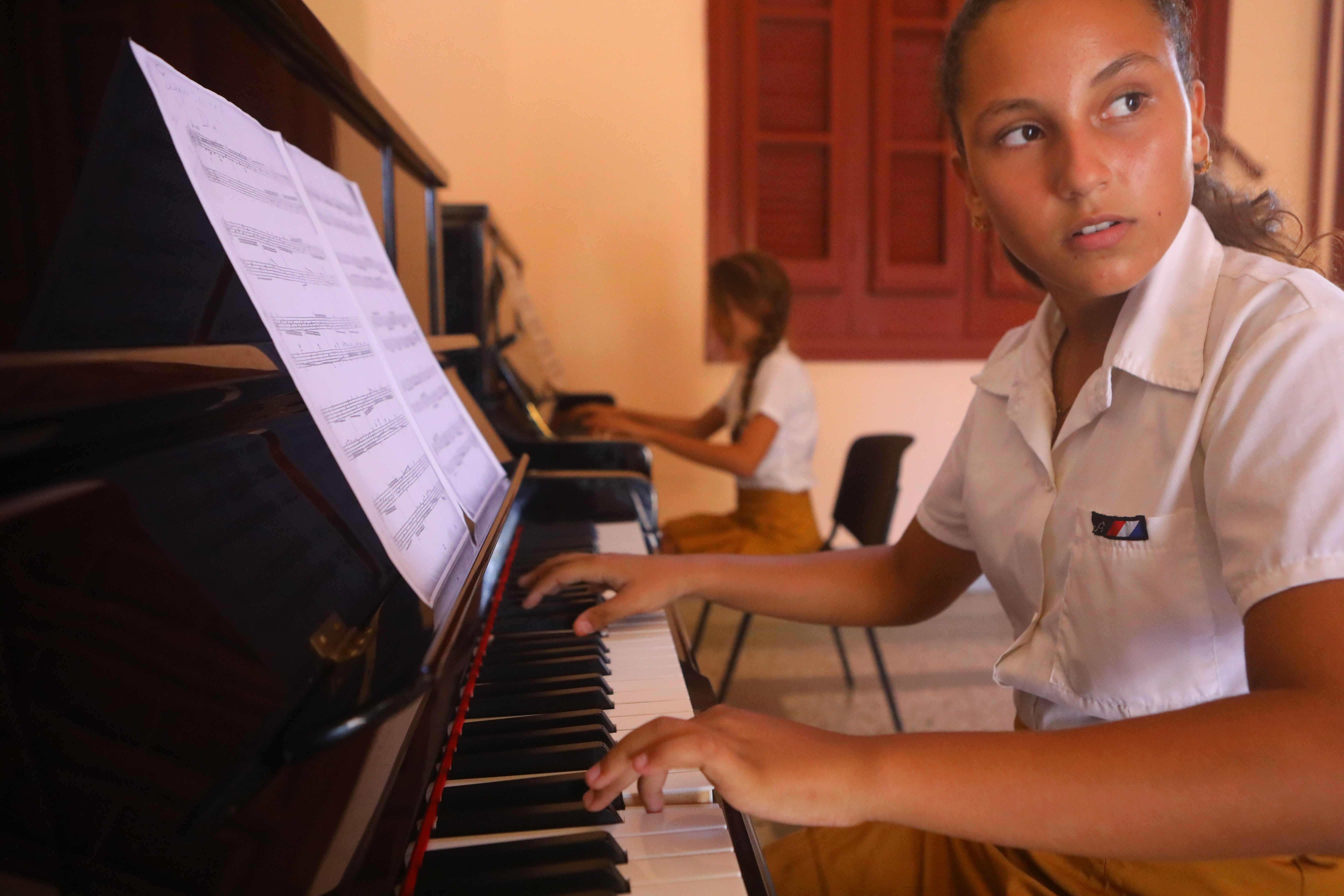 Cuba's taller (workshop) for string instruments, at Minas, in Camagüey province, supplies the schools with violas, violins, cellos and guitars hewn from native hardwoods and pine. "They were bad," recalls Darianna, who studied at Camagüey's Escuela de Arte Samuel Feijóo and is today a contrabajista with the Orquesta del Instituto Cubano de Radio y Televisión. "The strings were awful. The alma—sound posts—kept falling off. We had no luthiers in Camagüey. We learned to repair our own instruments however we could." Today the Ministry of Culture imports instruments from China—a small improvement.
Despite these handicaps, Cuba's escuelas de arte continue to graduate world-class musicians. A-list alumni include classical pianist Frank Fernández… Jazz impresarios Chucho Valdés and Gonzalo Rubalcaba…. And popular music maestros Juan Formell, Isaac Delgado, and Geraldo Piloto. Flamboyant musicians whose verve and flair reflect their training, infusing impeccable technique with an extroverted splash of Cuban color.
"Do you have goals? What do you dream of becoming when you grow up?" one of my motorcycle group asks Adianez. "I want to be a famous musician. I want to go to ISA," she fires back, excited, using the acronym for the Instituto Superior de Artes.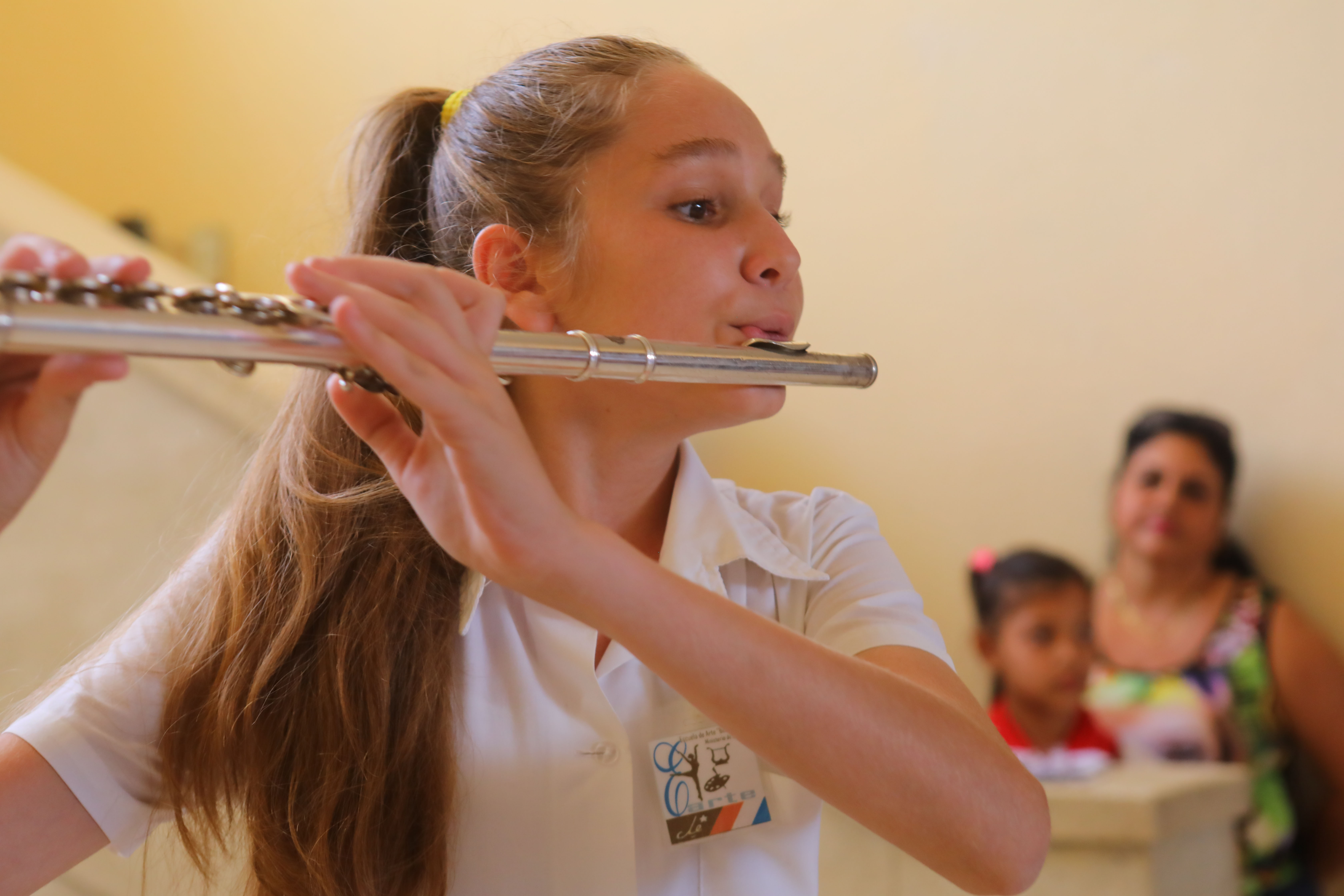 These are no schools for dilettantes. "There's only one route to success," says Elizabeth. "Practice… practice… practice!" In many ways, Adianez has given up a normal childhood.
"I'm from the countryside," Ekaterine tells me. "My parents were poor, but they were educated by the Revolution. They had dreams for me and my brother. I loved music, so I wanted to audition," she adds. "The school totally changed my life. I don't regret the sacrifice. It taught me the value of discipline. It's the only way to attain your dreams."
It helps that in Cuba all education is free, at every level. "Everybody has the chance to study and be somebody, no matter who you are," notes Darianna. "I feel grateful."
Darianna is black. So is Ekaterine. And Adianez. So, too, Dianna—a mulata (mixed black and white).
Black and female.
When dictator-president Fulgencio Batista—who was a mixture of white, Chinese, and black—arrived at the exclusive Havana Yacht Club, they turned the lights out on him to know that although he was president, as a mulatto he wasn't welcome. It's a side of pre-revolutionary reality that white Cuban-American exiles forget. The social advantages that opened up after the Revolution have resulted in the abolition of such lily-white scenes.
Watching Adianez and Dianna perform brings home how much Martí's dream of social and racial equity, opportunity and integration have been realized thanks, not least, to Cuba's Escuela de Artes program.
"Wow! That was impressive!" exclaims the most ardently right-wing of my motorcyclists as he fires up his Harley. His eyes glisten, tears welling up, as the kids wave us off.
Note:
Artistic education in Cuba has three levels: elementary, intermediate and higher, the last two with a professional character. The Vocational Art Schools are distributed throughout the country, are specialized institutions for elementary studies in music, ballet, dance and plastic arts. Professional art education in Cuba has specialized intermediate institutions like the National Art School of Havana and Professional Art Schools in other provinces. The higher level is studied in the University of Arts of Cuba.