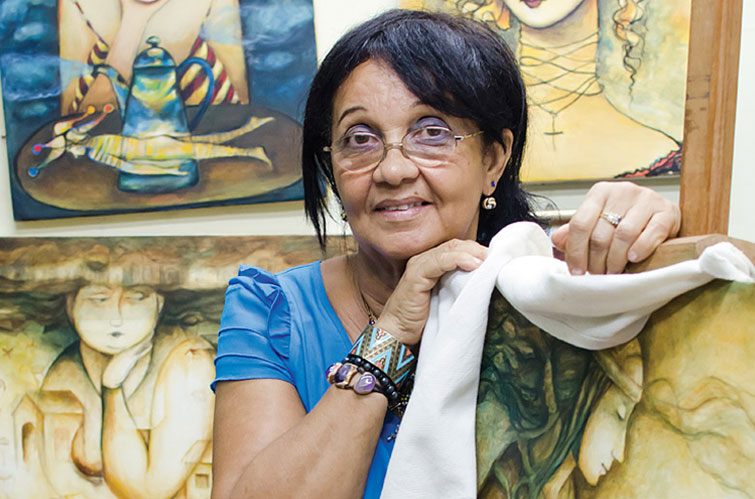 MARTHA JIMÉNEZ HAS A SHARP EYE; PERHAPS THAT IS why her work has such a high dose of realism, in her case with the nuance of an interwoven poetic element. Her work could be divided into two major moments: one that is conceptual and one that addresses local customs.
As she revealed to OnCuba, there was a time in her life when she did not have space to create, because "my role as a mother occupied all of my time." It was then that imaginary characters began to ap- pear, based on her immediate surroundings. This artist's work has another distinct characteristic: she delves into the psyches of each character that she depicts, while also—and consciously—reflecting contradictory qualities, captur- ing everyday events and reactions. She is interested in reflecting Cuban idiosyncratic expressions, making them explicit so that "viewers see themselves reflected in my work, and feel like they are part of it."
The issue of women is a constant in her work. She claims that she does not align herself with any feminist current, but she is interested in "embodying women within their world, as a determi- nant being at the social level, the bearer of solid values." Cuban women "have attained achievements," she says. "And we still have a way to go: we have to value ourselves as we are, dream, set goals for ourselves, and above all, realize them." Her voluptuous women, with their enormous hips and fleshy lips—without any influence whatsoever of Colombian artist Fernando Botero—reaf- firm for us that, on the one hand, women are the cornerstone of the Cuban family, in addition to expressing how much we owe to Africa. There are also slim women, thin-lipped and aquiline- nosed, referring to that part of the Caribbean bearing a markedly French influence.
While she has ventured into different areas of the visual arts, Martha favors ceramics, which sometimes and unfortunately has been described as the "Cinderella of the visual arts." There are two people who should be thanked for vindicating ceramics, she says: "Amelia Peláez created an impressive piece in glazed ceramic, and Alejandro G. Alonso, director of Cuba's National Museum of Contemporary Artistic Ceramics, produces work that is as systematic as it is commendable." Likewise, she empha- sizes, the maestro Alfredo Sosabravo's work and production has "exalted Cuban ceramics," contributing distinctive characteristics and traits.
Martha was not born in Camagüey, where she works and has created her family. However, it seems that she was destined to live in that city, because historically, Puerto Príncipe—the original name of this site, founded as the third Spanish colonial villa in Cuba on Feb. 2, 1514—always had a deeply-rooted pottery-making tradition. This includes everything from the clay roof tiles used for mansions, churches and even the humblest of homes, to the ever-present tinajón, the large clay water vessel that has come to symbolize the city of Camagüey.
"I like to imagine that Camagüey is one giant oven," she says. And that passion for "the burn," essential for ceramics artists, holds many secrets: "opening the oven door is an act of magic, because you face surprises that can fill you with happiness or disappoint you. With the oven, chemi- cal processes and even accidents occur that can result in a better piece—it's happened to me, but I've also seen, with irreparable sorrow, how others have shattered." Modeling, creating shapes with her hands that can be adapted to terracotta or other media, such as bronze, is one of her great- est enjoyments. The three-dimensional quality captivates her, and is weighty in her pictorial work: "When I model—referring to clay—I don't draw or sketch; instead, I go directly to the creation, and that is how I function best.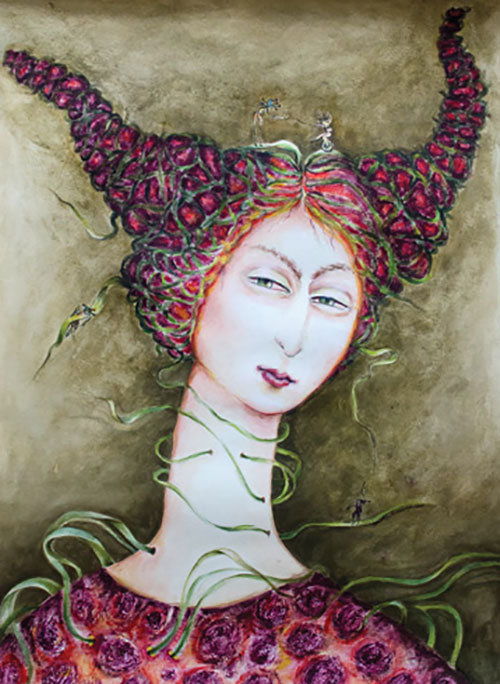 I also love engraving because of the high degree of experimentation that it involves, and the pos- sibility of working with different textures." Pincel con alma de beso ("Paintbrush with soul of a kiss") is a community project for children and young people that has enabled her to "feel complete," because this artist has been involved in teaching for more than 30 years, and continues to do so, even though, as she admits, "teaching is very time-consuming." For her "the education of new generations" is fundamental. "I'm not referring solely to them learning how to paint, but also to the fact that the visual arts help human beings to shape their behavior and contribute to their psychological and mental development. It is es- sential to be aware of how important art is, and from an early age, to teach children so that as adults they will be women and men with spirituality and values." About four years ago, Martha participated in the 5th Internation- al Sculpture Symposium in Turkey, and won the only prize awarded at that event, with her piece "La Gineta"("The Genet," 1.9 centime- ters high), and in Istanbul, she erected another piece, "La cuarta parte del cuerpo humano" ("The fourth part of the human body, 2.9 meters high).
For this artist, "the most relevant thing about that experience was the possibility of working in large format," something that she did for the first time, and the only time to date. Camagüey bears the hallmark of Martha Jiménez, thanks to various pieces and sculptural complexes by her that are located there. One of her most cherished dreams is to create a piece more than three meters high. It would be a gift for Camagüey, which "for me, is my inspiration and oxygen," she says.
Sculptor, painter, illustrator, engraver and ceramicist Martha Jiménez is part of a group of artists who emerged from the first graduating class of Cuba's Art Instructors' School, in 1971. Since then, she has had a busy career that has been distinguished on a number of occasions.
She won an award at the 2nd International Biennial of Contemporary Teapot Art in Shanghai, China, and in 1997 she won the Union of Writers and Artists of Cuba (UNEAC) Award; in the same year she won the UNESCO award for Best Set of Works, and in 2005, she won the UNEAC award for her Plaza del Carmen sculptural project, located at the emblematic site of the Villa de Santa María del Puerto del Príncipe, modern-day Camagüey.
Her work can be found in private collections in Germany, Argentina, Belgium, Canada, Colombia, Chile, China, Spain, the United States, France, Greece, Italy, Mexico, Peru, the Dominican Republic, and Sweden, and in institutions such as the Museum of Colonial Art, the Museum of Contemporary Artistic Ceramics, and the Nuestra América Collection of Havana's Casa de las Américas in Cuba; and in the Madison City Council's Museum, in the United States; the Museum of Arts in the Villa of Art and Trade in Paris; and the Fine Arts Museum of Montreal, Canada, among others.