Zulu appeared on the scene in the early 1990s as a brand that has taken the pulse on leather manufacturing on the island. Armed with the slogan "Have you ever seen a bag like this?," each handbag has a story to tell, every design is unique.
Hilda Zulueta, a mathematics teacher at the well-known Lenin Vocational High School, and her daughters Odaimis and Mady, a mechanical engineer and an art historian, respectively, carry out the trade with art and skill. Leather seems to spill its secrets to these women. Hilda says that each time they finish a bag they want to keep it, but the pride they feel because their creations travel around the world and that their owners return gratefully requesting more to give to family and friends is more important.
All three women design and produce bags, and attend to customers in the store. This is a story of overcoming: brawny women who took up the challenge of the leatherworking trade, traditionally exercised by men. It all began during the Special Period in Cuba in the nineties after the fall of the Soviet Union, when in order to survive in the midst of precariousness, many people were forced to change occupations.
With no family tradition or experience in the trade, and using the mustard-colored hides discarded in the boot factory close to Odaimis's job, they began to create. There the first handbags were born, more rustic than the contemporary ones. Since then, the production of these bags has evolved while at the same time preserving the imprint of their creators.
Thanks to the drive and strength uniting them, and as a result of the opening of the private sector, they opened a shop. Previously they sold the bags through intermediaries with their own points of sale, but demand was the gauge that made them think big. They increased production and set out to make various accessories such as wallets, mobile phone cases, belts, and even shoes.
Today they organize their work by collections. Different textures are added to their durable creations, with lots of style. Since women need bags, and so do many men, demand has not gone down.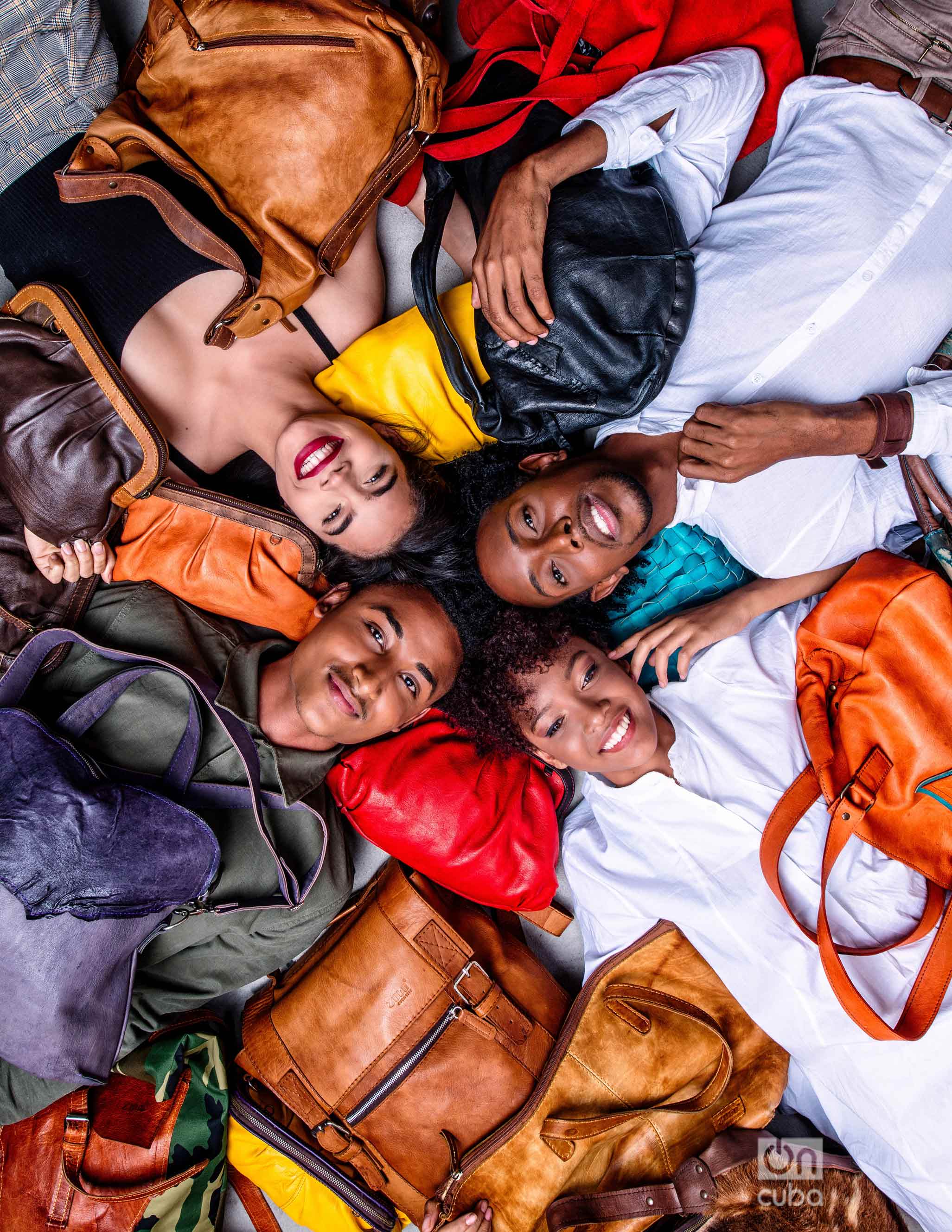 Challenges
Their beginnings and the way they got to where they are now is what has made them unique. The materials, the information, and the tools—or lack thereof—have been key. "We had my dad's hair scissors and a household hammer, and we started with that. Our fingers were destroyed. The vices of the ancestral trade did not influence us because we didn't know anything about it, which led to the unique designs. Scarcity made the designs quite imaginative. We have always been very observant and that helped. When there was nothing, we had to innovate," added Odaimis.
Identity
They entered the market with a clearly identifiable brand. Zulu is the diminutive of the Basque surname Zulueta. Doing some research they discovered that the word zulo exists in Basque, meaning hollow. And what is a bag but a hole into which we dump everything we need? That was convenient for them, although they're not bothered when people associate them with the eponymous African ethnic group.
Bold spirit
They have participated twice in FIART (International Crafts Fair of Havana), where they have received prizes. "We have always been very curious, innovative and investigative. Our products are so durable that we think nobody would buy two; however, there are clients who have up to eight bags for color combinations. We also redo the bags, and restore them so that they look like new. Leather lasts forever and even more so when it is well-tanned. Ours is treated by hand, which guarantees quality," Hilda explains. Their unique bags and accessories extrapolate current trends from daily life in Cuba. Their exuberance comes from the island's Afro-Cuban roots in both color and form.
Zulu is a versatile brand: you're just as likely to come across a large bohemian and functional model as a sophisticated and glamorous tiny clutch to use at night. The chromatic ranges are also distinctive, from the most whimsical turquoise blue to the most vibrant red. The way they dye the leather also distinguishes them. Zulu is the demonstration that it is possible to create an excellently made product in Cuba despite material obstacles.
A Female Family Business
"It's a big challenge because we have to take on all the roles at once without neglecting anything. That's another of the handbags' value-added qualities: the ability to fight on all fronts without leaving anything behind. We have to be profitable and sustainable, we have to evolve and we cannot stop being a family. Contradictions generate development, according to Marxism. We always try to agree, although it is very difficult. We must not surrender, we put almost everything to a vote and we fight for our criteria. We must not tire: we all have children and they don't get tired, so neither do we," says Odaimis.
The Star Product
"There's demand for each of the bags, because each one is unique. We also work to order according to the client's needs. We see what is most functional for today's women and the designs that clients bring are personalized with their own names. Right now, the el organizador model (the organizer) is selling well; it's a small purse that goes inside the big bag," said Hilda.
Zulu's "Spore Campaign"
"We are women, and our bags reproduce like spores. People want more and when one goes out another one does too. The best thing is that the name of this marketing campaign—in Spanish, Zulu por esporas—came from my daughter Sara. It's important that the whole family is integrated so that our business remains family-friendly," said Mady.
Our "Zuleado" Cannot Be Copied
The ZULU are crafted with what they call the zuleado, a distinctive technique that shows how the edge of the leather ends in each piece. It simulates the petals of an orchid, while exposing the irregular edge left over from the tanning itself. The purpose of the zuleado is to take advantage of even the smallest piece of material and give an unmistakable stamp to the bags. "Nothing is thrown out here, we take advantage of everything that returns us to our essence, to the origins where everything started: with leather scraps. Our leather is handmade, it is not mass-produced. We do everything from tanning to dyeing, that's why the edges have so much magic," Mady explains.
New Headquarters, New Plans
"Changing workspaces and moving sales to a larger space expands our perspective and, therefore, our projection. We want to implement a social project with children and unemployed people. We have already begun, but we want to expand and maintain it. We love to teach and transmit the knowledge we have acquired over all these years," concluded Hilda, the matriarch, the origin of it all.