FOR CUBA'S FEMALE BOXERS, THE BIGGEST FIGHT ISN'T IN THE RING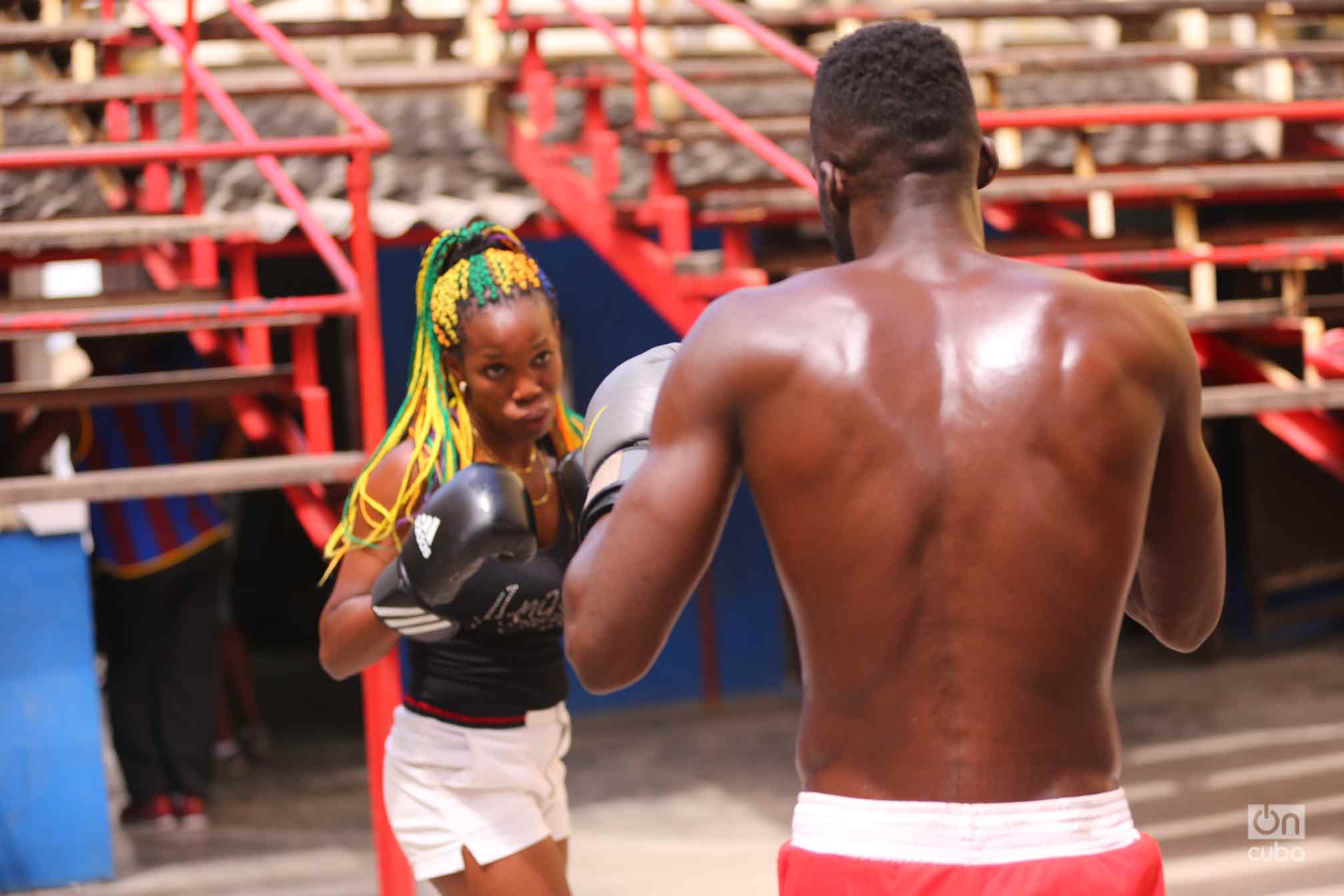 "Cuban women are meant to be beautiful, not get hit in the face," Pedro Roque, former head coach for the Cuban boxing team, declared a few years ago.
Don't tell that to Legnis Cala Masó. Her nose is already broken.
Despite which, this 28-year-old mum and boxeadora is a knockout. With legs like Ciara, lips like Naomi's, and a body as lean as a whippet, she looks out of place in the post-apocalyptic semi-ruin that i's the open-air Gimnasio Rafael Trejo. Her rainbow-hued braids and gold necklace fly around wildly as she jabs the air, bobbing and dancing around the gym's cracked concrete floor. All the other boxers are Afro-Cuban men. Hulking fighting machines of pure muscle, perspiring heavily in the heat of Havana in May.
Masó is wearing a black tank-top with the word "Angel" written in sequins. Her rhinestone earrings sparkle in the tropical sunlight lasering down through gaps in the corrugated tin roof. I watch in awe as she carefully files the flaking ends of her long turquoise nails, then bandages her hands before slipping on a pair of Adidas gloves.
Utterly sexy and feminine. But she boxes with two-fisted guts… and a goal. "I want to represent Cuba at the 2020 Olympics in Tokyo," she tells me, wiping the sweat from her brow. "That's my dream!" There's just one problem. While Cuban women bring home international medals in such combat sports as wrestling, karate, and judo (Olympic gold medalist and three-time World Champion, Driulis González, is considered the best judoka of the 20th century in the Americas), female boxing in Cuba—where all sports figures are either hobbyists or state employees—is not endorsed. It's a man's sport. Masó and several other female boxers were even ejected from a state-run gym because, said the government sports official, "female boxing is not allowed."
Wait! What? In Cuba? The country that has done as much as any to advance gender equality and women's rights?
"We don't train female boxers for political reasons," admits four- times world welterweight champion Juan Hernández Sierra, a member of the National Commission of the Cuban Boxing Federation. "As a boxer myself, I would not like to see women's boxing. While I do respect women's rights, I personally wouldn't like it. Women are not meant to be hit. Women are for caressing and affection."
Political sounds a lot like male sexual pride.
Nonetheless, the number of Cuban women boxers is growing. Some, such as fisiculturista (body-builder) Caridad Villa Castro box purely for the cardio workout and muscular toning. Others, such as Masó and her friend, sparring partner, and would-be fellow Olympic fighter Idalemys Moreno, 27, are motivated by a desire to deal Cuba's lingering machismo a knock-out blow.
Hidden amid the sagging, mildewed walls and half-collapsed balconies of southern Habana Vieja, Gimnasio Rafael Trejo occupies a space where a building collapsed long ago. It's pretty Spartan, despite being dolled up for Princes Charles' visit in March 2019, when a new ring replaced the cobbled plywood contraption topped by ripped canvas sheets. Gone, too, thanks to a new royal silver paint -job, is the centuries of grime soldered by tropical heat into faded pastel paint peeling from the walls like scrofulous skin.
Despite the Potemkin village treatment, Gimnasio Rafael Trejo—named for a Cuban law school student killed while protesting against the 1930s Machado presidency—still has serious attitude. (It's also a photographer's heaven. I never fail to bring my photo tour groups here.) It's been the cradle of virtually every great Cuban boxer, from Kid Chocolate to Félix Savón. Many among Cuba's 37 Olympic gold medal winners have trained here,. despite the antiquated, makeshift, and bare-bones equipment. It's inspirational to watch. Especially as a new generation of female boxers punches its way in on the action in pursuit of a dream to compete for glory in the "sport for men."
"Left! Right! Right! Left!" shouts 66-year-old coach Nardo Mestre Flores, demonstrating a one-two punch. A former member of the Cuban boxing team for nine years, Mestre—el profesor—and fellow coach, Olympic silver medalist Emilio Correa Jr., have taken Rafael Trejo's female boxers to heart. Lucía González, 66, who runs the gym, manages Masó, Moreno and 21-year-old Erisnelsy Torres Castillo, the three women who train here for hours every day with their eyes firmly fixed on Olympic gold.
"Our daily struggle is to get the same opportunities as the men," Moreno told correspondent Kelefa Sanneh for HBO's The Fight Game: Breaking Barriers in Cuba. "That's our greatest desire. It's why we train every day. To represent Cuba just like them."
They're the protégés of Namibia Flores, subject of Boxeadora, as well as Namibia: Cuba's Female Boxing Revolution and Two Beautiful: Our Right to Fight, three documentaries that have shone a spotlight on female boxing in Cuba. For a long time the only female boxer in Cuba, Flores is the very symbol of the nation's revolutionary spirit. "If she were in any other country, this woman would be a national champion," says Mestre, who discovered her boxing talent a decade ago and fueled the idea of an Olympic medal in her head. Ever since, she has trained five hours a day—every day—in the hope that someday the Commission might approve women's boxing.
"But that day never came," says Flores, now 43 and too old to fight in the Olympics. "My chance to compete has ended. But la mulatica [Idalemys Moreno], Chiqui [Erisnelys Torres], and all the other new girls who've quit their jobs and other sports to train as boxers have great potential. If they train hard, they could soon bring medals home."
"They can bring more glory to Cuban sports," Correa told Associated Press reporter Andrea Rodríguez. "The motor skills, the explosive nature and the energy of Cuban boxers are also present in these women."
Correa inspired Masó, Moreno, and Castillo to take things into their own carefully-wrapped hands and petition for a green light from government officials, including the powerful Federation of Cuban Women (created in 1960 with the objective of promoting political and social reform to achieve full gender equality for woman in all areas and levels of society.). Dishearteningly, they received no response. Officials such as Cuban Boxing Federation president Alberto Puig de la Barca sound like an old broken record with their refrain: "It's a matter that's under evaluation."
Changing the minds of Cuba's government burro-crats is a process slower than rigor mortis.
"If in Cuba the moment comes when women can box, Hatzumy will be the first," says boxing Luis Pérez Duverg, proudly. Pérez coaches at Gimnasio La Cuevita. A true gimnasio del barrio, this humble extemporized space in Centro Habana makes Gimnasio Rafael Trejo seem like Madison Square Garden.
"Harder, hit harder! Watch what you're doing! Don't lower your hand!" screams Pérez, as 13-year-old Hatzumy Carmenate —the subject of a beautiful video by The New Yorker magazine, Fighting Cuba's Boxing Ban— crouches and covers, throws jabs and hooks, and dances around like a butterfly.
"In the USA and Europe, boxing is based on strength. Here, ours is like mastering a dance… If you can't dance in Cuba, you can't box," claims Pérez.
Ha! No wonder Cubans rule the ring like it's a dance floor.
"My mom doesn't like me boxing. She says it's too violent," admits Masó, puffing after pummeling a punch bag that can't take many more rounds. "But we get many female fighters from other countries who visit Rafael Trejo to train. If they'll give us permission to fight in competitions, I think we'll do well. One day soon it will happen," she adds, cheerily.
"Yes, but do you know how to dance?" I ask her mischievously.
"Oh, yes. I love salsa," she replies.
The sweat, the occasional blood… and the broken nose? That's nothing! Getting permission is the fight she, Moreno, and Torres most passionately hope to win.
Moreno earns a small state salary teaching wrestling and sports and track-and-field at the University of Havana. But Masó relies on a share of the fee charged to photographyic groups and others that visit Rafael Trejo. For now, it's as close as she can come to being classed as a professional boxer.