Photos: Otmaro Rodríguez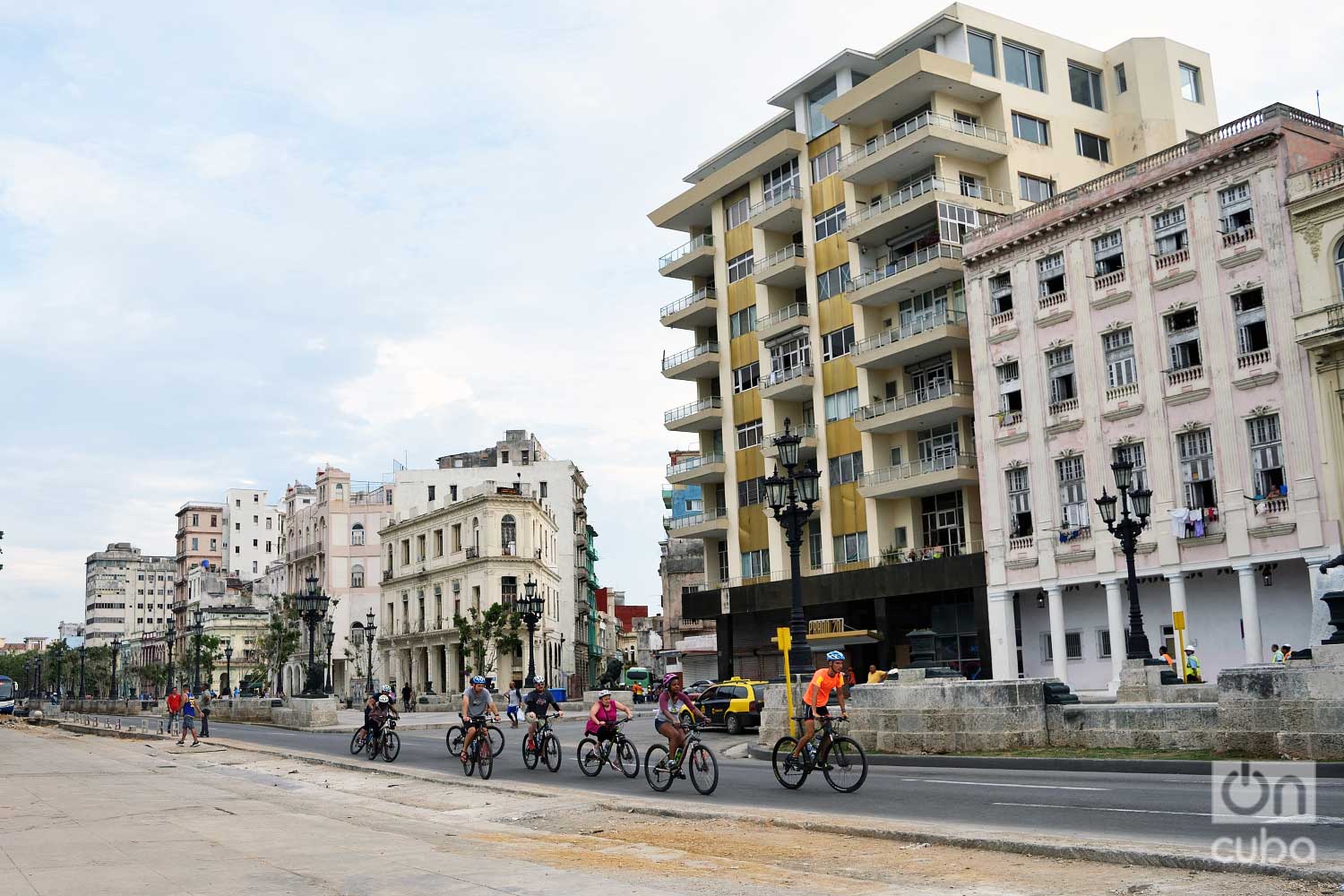 A new public bike rental system hopes to change habaneros' thinking
Havana's city leaders are planning a new revolution… Ha'BiCi! It's a clever name that synthesizes the words "Habana" and "bicicleta," but whose proclamation conjures the act of riding a bike. Launched in November 2018 as part of the city's 500-year celebration, Ha'BiCi—the first public bicycle rental system in Cuba—is intended to help alleviate the city's congested bus network by inspiring habaneros to take to two wheels with gusto.
This collaboration between the City Historian's Office and Vélo Cuba, a private bike-rental and repair business, allows customers to rent bikes at one of four points in Old Havana, where Compostela, Luz, and Empredrado streets have been marked with Havana's first ciclovías (bicycle lanes). It's a small start for a pilot project with grand ambitions… to change the lifestyle of a people whose love affair with the bicycle has been lukewarm at best.
Elsewhere in Cuba, bicycles are everywhere, being pedaled gleefully down every street with an insouciant disdain for other traffic. But in Havana?
"I do not recall seeing a single adult Cuban on a bicycle in Havana during the entire period of my residence in the city from 1962 to 1968," recalls Maurice Halperin, then a professor at the University of Havana. And when Sandra Levinson, director of the Center for Cuban Studies, in New York, brought her bicycle to Havana in 1972, her neighbors laughed. They considered themselves First World citizens. "Why should we ride bicycles? They're for underdeveloped countries!" they scoffed, unaware that they were in for a rude awakening.
The collapse of the Soviet Union in 1991 meant an overnight loss of petroleum and almost all other supplies. Transportation virtually ground to a halt, along with the rest of the Cuban economy. Fidel Castro's wartime-like austerity plan during the so-called "Special Period" to save the beleaguered nation included a widespread substitution of oxen for farm machinery, and hundreds of thousands of bicycles to replace gasoline-consuming vehicles. The policy was symbolized during the 1991 May Day parade when armed forces cycled through the Plaza de la Revolución on Chinese-made pachyderms.
The first shipment of 200,000 single-gear, hard-to-pump "Flying Pigeons" arrived in November 1990. Within a year, 530,000 Chinese bikes were in use on the streets of Havana. (Workers paid 125 pesos, equivalent to about half a month's salary—US$5—while students paid 65 pesos.) By the close of 1992, about half of all households had one or more bicycles, according to Granma. Overnight, Havana—a city of 2.2 million people—had been turned into the cycling capital of the Americas.
The Group for the Integral Development of the Capital evolved a plan that closed several streets in Old Havana to motorized traffic. Bicycle lanes were created, including along the Malecón. Lanchitas (ferries) were equipped for bicycles and specially-adapted ciclobuses were introduced to carry cyclists through the harbor tunnel. The government even initiated classes in bicycle safety.
"Today the bicycle is as much a part of the Cuban scenario as the palm tree," I was told by Narciso Hernández, director of Empresa Claudio Arguelles, one of five retooled factories established in 1991 to assemble domestic bicycles from imported parts.
Touring the factory back then, I was fascinated by its homespun inventions. A tricycle for disabled people… A Dr. Seuss-like, twelve-person bicibus contrived of two parallel bicycles with rows of seats, and pedals in-between… And even a military tricycle loaded with two torpedo-shaped cylinders. "No photographs, please!" Hernández laughingly implored as I raised my camera.
Cynics dubbed the wholesale switch to bicycles a symbol of socialism's failure. Supporters proclaimed it a two-wheel triumph over overwhelming adversity.
"We've entered the bicycle era," proclaimed Fidel, "but after this special period, we mustn't abandon this wonderful custom because of what it means for our health."
"Even when the fuel problems are resolved, we will not give up the pleasures of pedaling," gushed Ignacio Valladáres Rivero, president of the Club de Cicloturismo Gran Caribe.
Then, barely a decade into the bicycle revolution, Venezuelan President Hugo Chávez bailed Cuba out with subsidized oil. As Havana's economic situation improved, the Flying Pigeons, Phoenixes, and ill-named Forevers were sold en masse to the provinces. Eventually the cycle paths were pulled up for lack of use.
Habaneros hadn't fallen in love with the bicycle. They hated them!
"Bicycles were imposed on us as a solution to our transportation crisis. Now, those of us who continue riding do so by choice," says Vélo Cuba founder Nayvis Díaz, 42, who also heads the Ha'BiCi program.
Díaz is one of relatively few habaneros of a certain age not still traumatized by bicycle use during the Special Period. Bicycles are considered a symbol of pain and poverty, indelibly associated with the lean years of the 1990s. Not least, being forced to pedal leaden Chinese bicycles increased people's appetites just when food became scarce: Between 1989 and 1993, the average Cuban's calorific intake dropped by 30 percent. To make matters worse, many habaneros had to haul their hefty contraptions up and down flights of stairs because electricity was out and elevators weren't working.
The memory of the '90s is still too close for comfort for most habaneros… Especially as Cuba once again wrestles with massive food shortages.
"Those of us who lived through the terrible experience of those years and survived to tell the story, cannot help but feel a sort of scary déjà vu," notes blogger Alberto de la Cruz, cynically. "It is almost impossible not to see in this 'solution' an obvious warning sign of worse times ahead in the short term."
But the Cuban mentality toward cycling is changing.
"My generation was a bit too young at the time to comprehend the pain. As kids, we just enjoyed having bikes," says Yasser González, a 34-year-old software developer-turned bicycle tour guide, and founder (in 2015) of Bicicletear La Habana—a project aimed at motivating Cubans to ride. At first, Bicicletear's free rides (every first Sunday of the month, at 5pm, from Parque de Los Mártires Universitarios, in Old Havana) drew mostly foreigners.
"We'd have maybe five Cubans and four times as many foreigners," he says. "But thanks to social media, the project has steadily grown. Now we get more than one hundred riders, and most are Cubans."
González is among a new breed of young Cubans who bet on the bicycle as an alternative lifestyle. Slowly they're building a mentality of cycling as fun recreation, while reshaping government thinking favoring more cycle-friendly policies, such as more ciclovías. Several hundred habaneros showed up for a 24-km ride on the United Nations' first-ever World Bicycle Day, on June 3, 2018. Despite a sprinkling of Chinese clunkers, the young June crowd sported a miscellany of modern road bikes, tourers, hybrids, and cruisers, many of which were donated by foreign travelers after touring the isle.
"Unfortunately, it's still difficult for most Cubans to buy a bike," says González. "The shops here only sell poorly made Chinese models. For better brands, you have to buy them outside the country. Even renting bikes is expensive for Cubans," he adds, speaking of cuentapropistas (self-employed people) who've opened rental shops geared at tourists and which typically charge 2 CUC for one hour to 15 CUC a full day.
Ha'BiCi, however, aims to make bike rental affordable for the average Cuban. Although tourists and other occasional customers pay 50 pesos (2 CUC) per hour (for up to six hours maximum), regular users can buy memberships for just 20 pesos for a week, 60 pesos for a month, or 520 pesos for a year, permitting one hour daily use of a bicycle, including a lock and helmet.
"The intention is to prioritize the movements of those who live and travel daily through the historic center," says Daniel Castellanos, of the City Historian's Office. "That's why the best prices are subscriptions for longer periods, so that people see the bicycle not only as a recreational medium, but also linked to the dynamics of transport in their daily context."
"We have about 200 members, and we've had to stop new registrations because there are only 60 bicycles," adds Diaz, enthusiastically. (The bikes were donated by the Basque Tecnalia Corporation.)
Four rental pick-up/drop-off stations are currently operating (9am to 6pm, Tuesday-Sunday), including Ha'BiCi's headquarters at Prado 20, opposite the Hotel Packard, plus Calle Compostela, Plaza Ursulinas, and the Emboque de Luz ferry terminal. Guadalupe Rodríguez, Director of Planning for the Directorate of Transport of Havana, says that rental stations will soon be added in Parque Curita and Avenida Galiano, in Centro Habana. Further afield municipalities, such as Fontanar and Avenida Boyeros, have also been approved. The plan is to expand to 78 docking stations around the city, all with associated lanes exclusive to cyclists.
"We're aiming for some 5,000 public bicycles to be circulating by 2030, when we hope for the network to be fully implemented," adds Rodríguez. "But we hope that other bicyclists will also circulate with their own bikes as the system grows and cycling becomes safer. We have great expectations!"
Hopefully, by then habaneros will no longer see a bicycle as a form of punishment, but as something fun and good for their health.