This holiday season, you can choose between doing what you always do locally, or you can celebrate in Havana! Depending on where you live in the country, you can escape the cold weather in the warm and tropical surroundings of this Caribbean paradise. By celebrating the holidays in Cuba, you are also helping change the outlook of locals with the Support for the Cuban People category for travel. By eating delicious food at privately owned paladares, staying in cozy and clean private homes, and shopping at creative privately-owned businesses, you are contributing to the local economy. Today take a stroll down the holiday season in Cuba. Picture yourself holding a mojito in the terrace of the beautiful Paladar El Cocinero, overlooking the sunset, enjoying the cool Caribbean breeze, surrounded by your loved ones, and making unforgettable memories in Havana.
The Christmas Ban in Cuba
Did you know that Cuba did not celebrate Christmas for nearly thirty years? Due to strict measures imposed by political regimes in the late 60s, Cuba became an atheist country for almost 30 years, between 1969 and 1997. The end of the ban came in anticipation of the historical January 1998 visit from Pope John Paul II to Cuba. The ban was "temporarily" lifted to allow the celebration of the Christmas holiday in 1997. That, however, changed with the continued celebration and return of the tradition of the holiday since that year.
Today, older generations of Cubans remember with a twinkle in their eyes how they celebrated Christmas before the ban. They remember a time when the celebrations included luxuries like imported fruit, Spanish treats like the delicious turrones, with large and elaborate family gatherings. Today, the size of the table and the offerings may have changed, but the spirit of family and unity remains strong!
A Very Cuban Christmas
Although faced with the country's financial challenges, Cubans know that Nochebuena (Christmas Eve) and Navidad (Christmas Day) are meaningful days to share with loved ones and friends. Know that although Christmas for Cubans may have some resemblance to celebrations in the U.S., it is far from traditional. First, Cubans eat roast pork for Christmas. It may be cooked over an open fire, in an oven, or cooked in the traditionally Cuban Caja China style, which involves placing the meat inside a metal box. This cooking technique leaves the meat juicy on the inside yet crispy and crackling on the outside.
Next, Cubans also like to enjoy their rice and beans or congrí, which combines both on the same dish, garnished with garlic and other spices. There may also be a side dish of fried plantains, yuca with mojo sauce, fried malanga bites, and other traditional Cuban staples. Toasts may be made with rum, cider, and sometimes Crema de Vie (Similar to eggnog). Desserts may vary by family, but you may enjoy Flan, Tres Leches, turrones, chocolates, or other homemade treats.
The celebration usually starts long before midnight. It may begin as early as when the first guest arrives at the gathering. You may walk into an environment of music to the beat of salsa or son, laughter, and much chatting. Cubans certainly know how to celebrate and how to host a party! The celebration includes both family and extended family. Guests may include from the smallest newborn babies of the family to the eldest living grandparents.
In Havana, the spirit of Christmas runs across the city. Locals and foreigners gather at the Malecón with the sound of music playing in the background. In the foreground, live street musicians can be seen playing traditional Christmas carols in Spanish, adding their dance provoking musical flair. You may want to let your inhibition go and dance to these Cuban holiday rhythms. The houses and balconies around the city glisten with lights, ornaments, and other holiday symbols, which adds an air of magic to the already charming surroundings of neoclassical architecture and old-world edifications.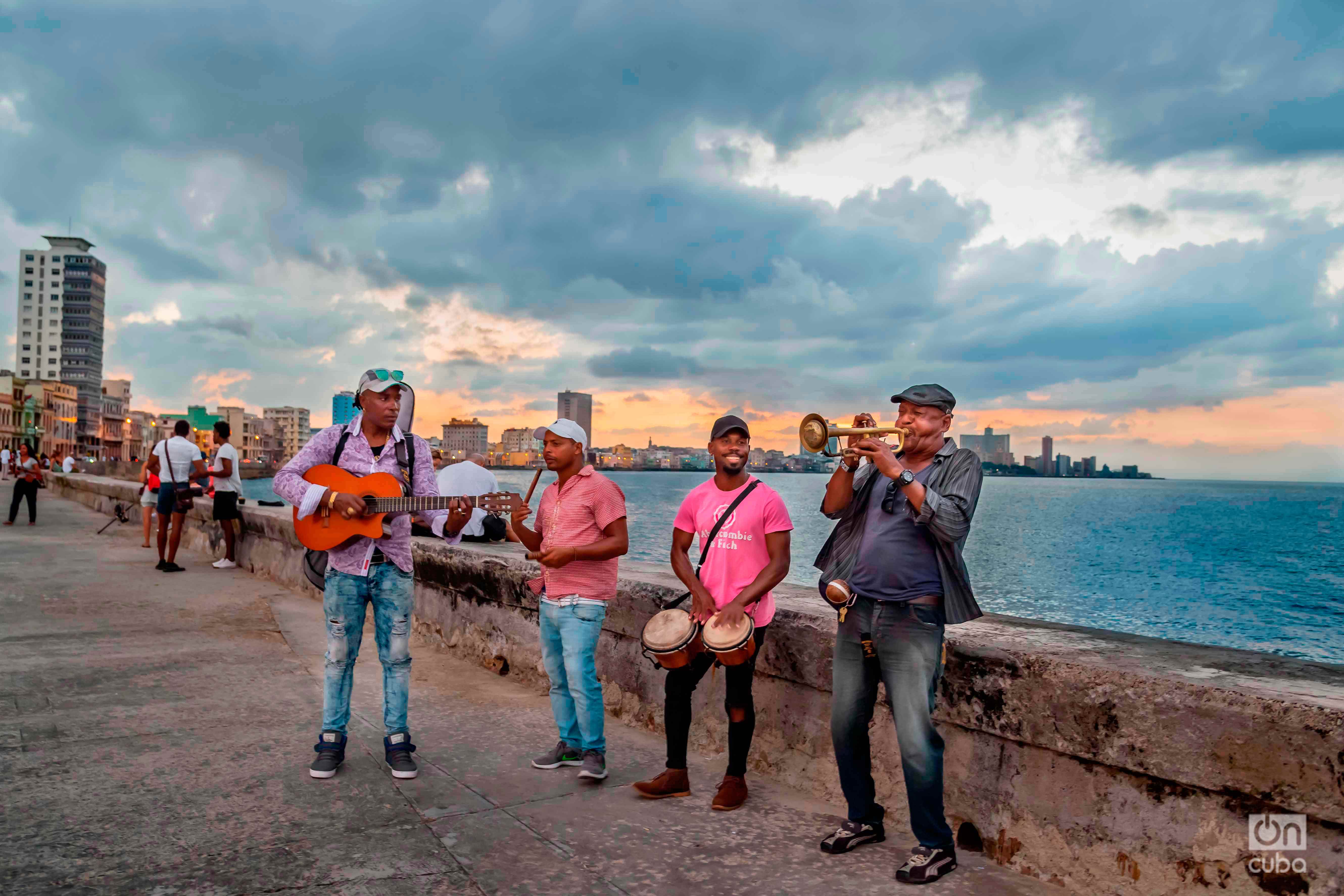 Privately-owned restaurants or Paladares that remain open over the Christmas holiday welcome guests for the festivities by offering delightful menus with some of the traditional foods for the season. Their special menus may also be accompanied by entertainment in the form of music, live music bands, and sometimes even dancing. There is certainly an offer to accommodate every budget and type of traveler.
December Festivals in Cuba
Something is always happening in Havana! December and year-end are no exception. First, this December will see the 2019 Habana Film Festival, also known as the Festival of New Latin-American Cinema of Havana. The festival focuses on the promotion of Latin American filmmakers and is conducive to opportunities for networking, location scouting, and the creation of projects. This year, the 41st installment of the festival will be taking place December 5 – 15th.
Despite the financial and political environment on the Island, Cubans love to celebrate! December brings to Cuba Las Parrandas de Remedios, one of the country's most rambunctious festivals! Typically celebrated in the days before Christmas, it sees parades, celebrations, lights, music, and dancing.
This festival is said to have started as a way to attract more churchgoers to mass before holidays in the old town of Remedios. The celebration originated with children running across the streets with noisemakers. Over time, the festival has grown to incorporate live music, parades, and street parties. Now several towns in the country celebrate Las Parrandas and compete for who has the best and loudest celebration!
Fun in the Sun for the Holidays
If you are dreading one more year knee-deep in snow and shivering at night, perhaps Cuba can be the paradise that will wrap you in warmth this holiday season. Cuba has primarily two weather seasons, a dry season that runs from November to April, and a rainy season that takes place from May to October. The weather in Cuba is relatively stable throughout the year. The average temperature is approximately 81o F. The country enjoys a pleasant ocean breeze and overall warm weather year-round due to its privileged location. Wouldn't that be where you would prefer to picture yourself this Christmas?
Exchange Your Snow Boots for Flip Flops
As the weather is mostly warm in Cuba, prepare with light summer clothing. In anticipation of days of outdoor exploration and excursions, pack for sunlight with items such as hats, sunglasses, and sunblock. You may also want to pack mosquito repellant. For the evenings, travelers can plan to wear dresses as well as pants and shirts. Suits are not required. Classic guayaberas are also suitable for your visit to Cuba.
It is also essential to pack comfortable shoes. Whether you are walking down Plaza Vieja, the Complejo Morro – Cabaña or the Callejón de Hamel, be wise to pack closed, comfortable shoes for various terrains and uneven surfaces. As you browse through possible half-day or daylong excursions during your stay, review the level of activity and clothing recommendation to plan accordingly. The team at OnCuba Travel is also available to assist you with any questions you may have during the planning process.
Get Ready for a Very Merry Christmas
Now that you are excited about your upcoming Christmas holidays in Cuba, it is time to get familiarized with the documents needed to enter the country. Cuba requires that all U.S. visitors have a tourist card or visa to enter the country. Once with that, the next step to travel to Cuba is to identify the type of license you will need. The license could be a specific license or a general license. Most U.S. travelers will be eligible for the general license if they are within one of the 11 reasons for travel established by the Office of Foreign Assets Control (OFAC).
The broadest category for travelers after the June 2019 changes to the travel policy is Support for the Cuban People. This category entails supporting local and privately-owned businesses through consumption. Some examples of appropriate activities are eating at a privately-owned restaurant, called a paladar, and staying at a casa particular or private home. Other options are available to define the purpose of your travel plans to Cuba. Travelers may also frequently visit Cuba for events, affinity groups, and educational activities. A professional travel agency, such as OnCuba Travel, can assist you with the selection process and to prepare your travel documents to travel to Cuba legally.
In addition to your travel documents, OnCuba Travel can also help you select from a variety of all-inclusive travel programs to accommodate your interest and bucket list items, like riding in a Classic American Car or visiting an artist collective. Their knowledgeable team can also help you prepare a custom program to accommodate your group's requests. Travel agents can also work with OnCuba Travel to plan group adventures and worry-free experiences. OnCuba Travel also offers the advantage of a U.S. based office in Miami and a local team in Havana, Cuba.
Prepare to Make Memories
The holidays are an extraordinary time to spend with family, friends, and loved ones. What better way to spend quality time together than away from the usual and exploring something new? Visit Cuba, explore this fascinating country, contribute to its local economy, and, most importantly, spend a Christmas to remember in a new and exotic destination. This country is unlike any others you may have visited before. You will undoubtedly walk away from this experience enriched and with many memorable moments shared with loved ones during your stay for a remarkable holiday season.