George Jinejosa holds in his palm an antique gold-plated watch with an elegant leather band attached by decorative homemade artisanal clasps resembling beaded pearls. The circa 1942 wristwatch that began life as a pre-revolutionary reloj de bolsillo (pocket watch), with a Roskopf pin-lever escapement, is among two dozen antique Cuervo y Sobrinos watches for sale in Havana's Plaza de Antigüedades flea market. George is asking for $400, a princely sum in a country where the average monthly state salary is $28. Not that he sells to Cubans.
"Italians are my best clients. Also Mexicans and Spanish," says George, a 32-year-old cuentapropista (self-employed person). "But Americans are getting to know Cuervo y Sobrinos. One americano—he works for a big finance company—comes regularly to buy."
George's display case is a veritable potlatch of yesteryear Soviet-made Katchas, Poljots, Slavas and Wostoks. But it's Cuba's own classically elegant Cuervo y Sobrinos watches that dazzle, like Cadillacs in a showroom of Volgas and Ladas. The really rare ones—the Cuervo y Sobrinos-branded Longines, Roskopfs and Rolexes—are the most highly sought by collectors. "The Longine was considered the best," says George. "Now there are few… and no Rolexes. They've been bought up by aficionados."
Founded by Ramón Cuervo in Havana in 1882 as a luxury jewelry store, Cuervo y Sobrinos quickly established a reputation as Cuba's equivalent of Tiffany in New York, or Cartier in Paris. Their watches were designed in-house and manufactured in La Chaux-de-Fonds, Switzerland, using movements supplied by Rolex, Longine, and Patek Philippe. Elderly people throughout Cuba and the Cuban diaspora recall with affection one of their proudest pre-revolutionary cultural touchstones.
"¡Coño! My uncle had a Cuervo y Sobrinos," exclaims Jorge Alfonso García, owner of the casa particular (B&B) where I'm staying, when I tell him I'm researching a story on Cuba's iconic brand of relojes. "He smuggled it out when he fled Cuba in 1960."
The Cuervo family was also forced to leave Cuba following the Revolution in 1959. Their business was seized. The brand went defunct. And the Cuervo y Sobrinos store, at the corner of Calles San Rafael and Aguilar, in Havana's 1950s epicenter of über-chic shopping, was turned into a haberdashery called Praga selling second-hand clothes. Today, it's hard to imagine that Albert Einstein, Ernest Hemingway, Clark Gable, and Nat King Cole were among the rich and famous clientele that walked through the boutique's doors, signed the guest register, and walked out wearing one of the world's most prestigious luxury brands of the day.
Grime has been soldered by the tropical heat onto the now dilapidated, gaudy two-tone-blue Praga façade, cross-hatched by a spider web of makeshift wiring. The interior is a statement in faded glory. Cats laze atop the cool terrazzo floor. Chipped marble Corinthian columns support the stucco-adorned ceiling, pocked with patches where plaster has collapsed to the floor. And a mahogany-panel wall is inset with three giant safes and an oversized clock with its hands stuck at twelve—a perfect reverse rags-to-riches metaphor for this Cinderella nation trapped in time. The three huge Mosler safes are half hidden by haphazardly placed tubs and racks of recycled clothes. Watching the desultory clientele picking like crows at the jetsam fills me with melancholy.
"At 6pm, when the clock struck, all the safes automatically closed until 8am," Jacquelín González Riverón, Praga's administrator tells me.
"There was another safe. A freestanding one. In there," says Praga clerk Lucía Caridad Puente, pointing to Jacquelín's office.
In 2002, former Spanish racing driver and entrepreneur Marzio Villa acquired the Cuervo y Sobrinos brand name from the Cuervo family and was given permission to open the freestanding safe. When the creaking doors swung open, heavy on their rusted hinges, Villa discovered a heretofore unknown cache of 25 original movements and watch design sketches hidden away all these years. That year, Villa revived the 40-year-dormant brand to manufacture luxury Cuervo y Sobrinos watches true to their heritage, with designs influenced by the serendipitous sketches found in the safe.
"The only Swiss luxury brand with a Latin soul," says Villa of the company's contemporary retro-inspired watches, reminiscent of the Art Deco era. "All our timepieces are based on original designs that hark back to the elegance and style of the Cuban heritage."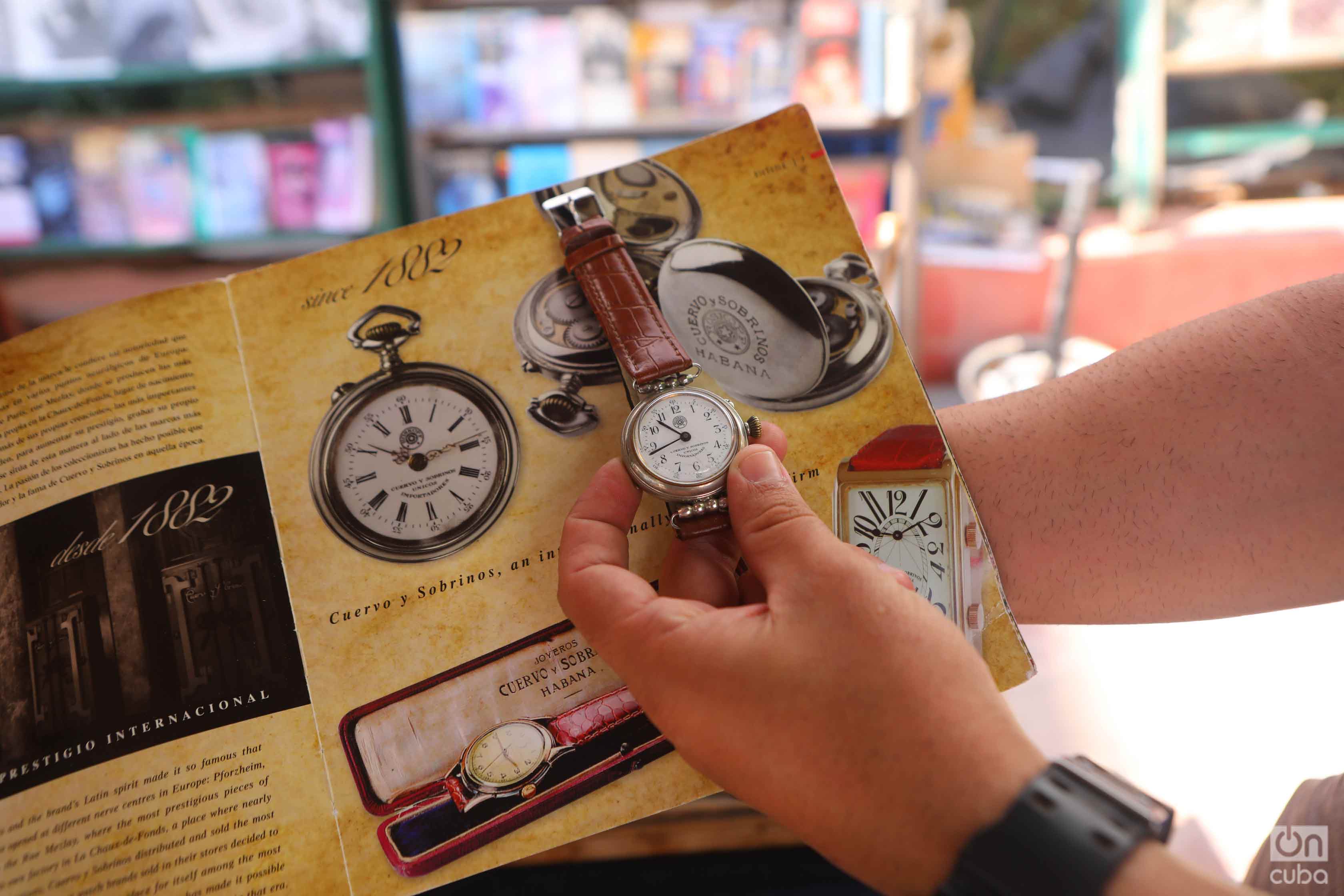 To suit modern tastes, the modern watches are larger than their pre-revolutionary forebears.
The first four styles were named for prominent cigar designs—Esplendidos, Prominente, Robusto, and Torpedo—using cigar-box color palettes evocative of sultry Cuba. Next came the stainless steel 1950s-inspired Historiador, introduced to honor Eusebio Leal Spengler, Havana's Official Historian of the City, charged with rescuing Habana Vieja—the colonial UNESCO World Heritage Site—from decades of neglect and decay.
"We're a Swiss company with zero ties to the Cuban government," says Marzio Villa. "But we will always have ties to the island, to our proud Havana heritage, and to our enduring Cuban spirit and historic roots."
Today the company is headquartered at Capolago, on the shores of Lake Lugano. Yet just off exquisitely restored Plaza Vieja, at the corner of cobbled Oficios and Muralla streets, stands the relojería Cuervo y Sobrinos (also called Tienda Museo El Reloj, or "Watch Shop Museum"), on the site where Cuervo y Sobrinos had its original office before it moved to Calle San Rafael in the 1930s. The gleaming boutique—which opened in 2009 as the first luxury mono-brand watch shop in post-revolutionary Cuba—is furnished fin-de-siècle fashion with leather seats, mahogany display cases, hand-woven throw rugs, and decorative Art Deco pieces in complementary tobacco tones. Standing atop the bronze-colored terrazzo floor is the original, ivory-colored freestanding Cuervo y Sobrinos safe that Lucía Caridad Puente had mentioned.
Perusing the spot-lit display cases, I spy a supremely elegant Historiador Clásico, with a copper dial cross-hatched with "Clou de Paris" guilloche, and a sub-dial engraved with "1882." Today the Historiador is available in 22 different styles, and not all still play to the quintessential Cuban cigar connection. They come in distinctly 21st-century blue, reds, and green, while the "Tierra, Sol y Mar" series (Land, Sun, and Sea) feature matching dials and straps in, predictably, orange, yellow, and teal. And outdoing even Piaget for ostentation is the Historiador Vuelo Crono Diamonds chronograph—an irresistibly glittery, gem-encrusted exemplar of Art Deco-inspired haute horlogerie—with a blood-red Louisiana alligator strap.
"Señor Villa gifted a Historiador to Eusebio Leal," sales clerk Yanelis Estupiñan Rivalta tells me. Tennis champion Rafael Nadal, Cuban-American actor Andy Garía and Cuban jazz pianist Chucho Valdes were also gifted Cuervo y Sobrinos watches, and Pope Francis II received a pure white Historiador Clásico on his visit to Havana in 2015.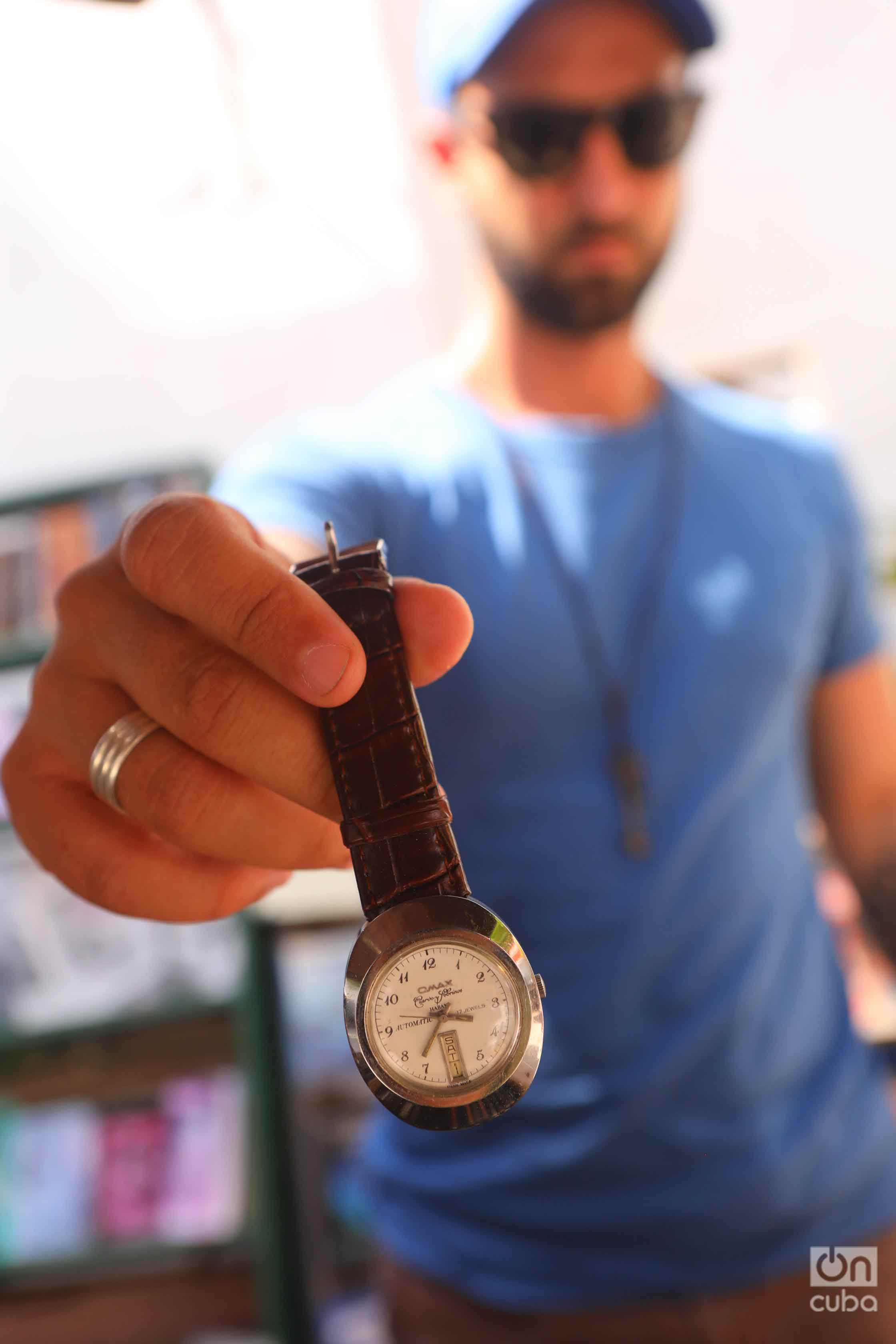 The watch that for more than a decade symbolized the CyS marque, however, is the Esplendidos—an oblong Art Deco design—dropped in 2015 in favor of the rectangular Prominente line. Today only a Limited Edition Esplendidos Habana 1882 is made, available only at select cigar stores worldwide, with a "tobacco leaf" texture and strap of African kudu. Yanelis shows me a circa 2012 gold-plated Esplendido Clásico, presented and sold (as are all the models) in a luxurious cigar humidor of Spanish cedar with gold-plated hinges and gauges.
"We sell an average of three per week," says Yanelis. "Mexicans are the main clients. And Chinese. They're the top buyers in the world, but now there's a Cuervo y Sobrinos store in China, so we don't sell as many to the Chinese as before."
"And Cubans?" I ask.
Her assistant pouts her lips: "¡Fffffppphhh… Ojala!"
"No, none as yet," responds Yanelis, more diplomatically. "But we've sold several to cubanoamericanos, and one or two more recently to cruise-ship passengers… Americans!" Alas, in 2017 the Trump administration added the shop to the list of banned properties where U.S. citizens cannot trade.